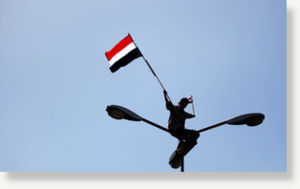 Major demonstrations both against and in support of President Ali Abdullah Saleh take place in Sana'a and several other cities
Saleh's words echoed a statement he made before Yemen's last round of presidential elections in 2006.
"You are tired of me and I of you. It is time for change," Saleh told parliament in July 2005. Shortly afterwards, thousands of Yemenis protested in Sana'a, demanding the president change his mind, which he did.
"Saleh is a good man, but he is under the influence of corrupt people in his government, and he will have to change, he will have to start listening to what his people are saying," said Nasser Al-Awlaki, the father of Anwar Al-Awlaki, a US born cleric who is accused of inspiring terrorist attacks against the West. "If he doesn't act soon, things will escalate. The opposition has grown much stronger, and there are thousands upon thousands of people here demanding change."