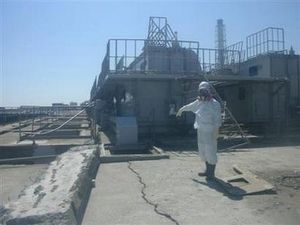 Japan's government warned on Sunday it may take months to stop radiation leaking from a nuclear plant crippled by a huge earthquake and tsunami three weeks ago, as more bodies were recovered in devastated areas of northeast Japan.
An aide to embattled Prime Minister Naoto Kan said the government's priority was to stop radiation leaks which were scaring the public and hindering work on cooling overheated nuclear fuel rods.
"We have not escaped from a crisis situation, but it is somewhat stabilized," said Goshi Hosono, a ruling party lawmaker and aide to Kan.
"How long will it take to achieve (the goal of stopping the radiation leakage)? I think several months would be one target," Hosono said on a nationwide Fuji TV programme on Sunday.