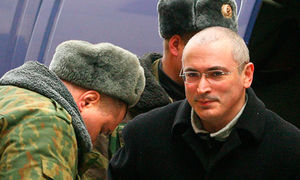 The final edit of a documentary about jailed Russian oligarch Mikhail Khodorkovsky has been stolen from the director's office in Berlin, just days before its world premiere.
In what police described as a "very professional break-in", four computers containing the last cut of the film, titled simply Khodorkovsky, were removed from Cyril Tuschi's premises.
The documentary was due to be premiered at the Berlin film festival next week.
Khodorkovsky, a fierce critic of Russian president Vladimir Putin, was once his country's richest man but has been in jail on fraud charges since 2005 after falling foul of the Kremlin.
Although police have no leads in the case, there is suspicion that the theft is politically motivated and forms part of a Russian campaign against its critics.
"It's like being in a bad thriller," Tuschi told the Süddeutschezeitung. "Someone is trying to scare me and I must admit that they are succeeding."
This is the second time the film has been stolen. A few weeks ago, when Tuschi went to work on the final edit in Bali, his hotel room was broken into and his computer hard drive taken, according to his PR agency.