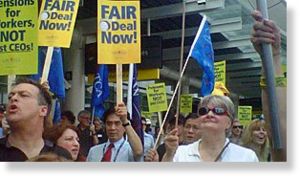 Air Canada's customer service agents and other airport workers are on strike after negotiations between their union and the airline failed to reach an agreement.
A spokesman from the Canadian Auto Workers union, which represents the 3,800 striking employees, says pensions and wages were key sticking points.
Union president Ken Lewenza had said earlier there was a "huge gap" between the airline and the union on those two issues.
Air Canada (TSX:AC.B) says it has a contingency plan in place to continue operating a full schedule even as the strike goes ahead.
The airline urges passengers to check its website because a high volume of calls could make it a long wait to get through to its call centres, which were largely operated by employees who have now walked off the job.
Federal Labour Minister Lisa Raitt has said she's concerned about the potential impact of a work stoppage on Canadians and on Canada's economic recovery.