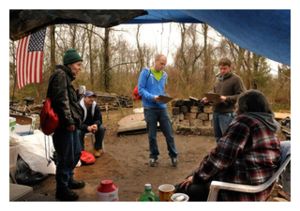 Klondike's compound is carefully concealed behind two dozen dying Christmas trees.
Tannenbaum, taken from the trash, shield the 62-year-old former mailman from prying eyes. But occasionally he invites area social workers on the "grand tour."
With pride, the man who calls himself Klondike demonstrates a makeshift shower system that runs on rainwater. Hot dogs and beans, rice and trail mix fill three plastic coolers.
"People see me taking this stuff from the dumpsters and they think I need help, but I don't need help," he said.
Bright blue eyes flare out from a full head of long, shiny white hair. Klondike's chest puffs out like a proud lion.
"I don't take anything anybody wants," he said of his compound. "I only take what other people throw out. I went 16 months and I didn't spend a nickel."
On Wednesday, Klondike and dozens of other homeless men and women opened their tents to volunteers from across Bucks County.
The unsheltered population and number of local encampments are growing, organizers said.