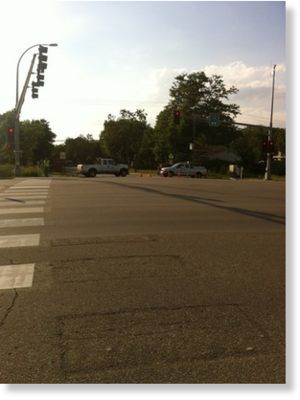 Authorities are still seeking the cause behind increased carbon monoxide levels that caused the explosion, sending three manhole covers flying into the air.
Apple Valley firefighters on Friday responded to an apparent underground explosion in a Burnsville neighborhood of which authorities still were still seeking the cause on Friday night.
Nobody was hurt in the blast that shook a neighborhood in northeast Burnsville on Friday afternoon, but at least 100 residents were evacuated from the neighborhood near River Hills Drive and Hwy 13 East after an underground sewer line erupted, sending three manhole covers flying between eight and 12 feet in the air.
"Those manholes weigh 100 pounds a piece," said Fire Marshal Lee LaTourelle. "That's a lot of force."
The source of the blast remains unknown. LaTourelle said many residents complained of a distinct smell of gasoline shortly before and after the explosion. On arrival, emergency workers found high levels of carbon monoxide in the sewer lines - up to 1,000 to 1,200 parts per million.
"That's really explosive," LaTourelle said. "We still don't know quite what happened."