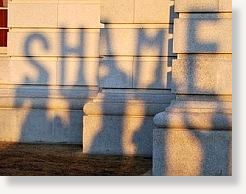 As the protesting spirit spreads in Wisconsin, one tactic that union members are now adopting is to take aim at institutions that have donated heavily to Governor Scott Walker.
Members of the Wisconsin firefighter's union set out for a local branch of the M & I Bank on Thursday to
withdraw
their personal savings. The UpTake, which describes itself as "a citizen-fueled, online video news gathering organization," reports that "on Thursday members of the union withdrew close to $200,000 from the bank."
A website titled "Keep on eye on Marshall & Ilsley Bank" had been
targeting
the M & I Bank since last month. "After working families gave Marshall and Ilsley Bank (M&I) a $1.7 billion bailout in 2008," the site explains, "their executives did an about face and funded Governor Scott Walker's attack on our right to collectively bargain. In fact, their financial help combined was more than what the Koch Brothers contributed. And while Governor Walker was demanding austerity from working people, M&I CEO Mark Furlong got an $18 million golden parachute. Even after the bank was having difficulty paying back its TARP loan."