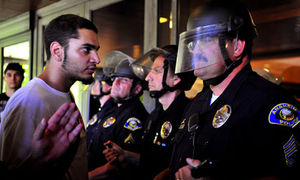 Officials in Anaheim, the southern California home to Disneyland, are scrambling to contain public anger over a rash of police shootings of young Latino men and pleaded for calm following a fourth night of street demonstrations marred by vandalism and looting.
Members of a 1,000-strong crowd broke windows and set fire to garbage skips in downtown Anaheim on Tuesday night, leading to hours of clashes with police, who responded with pepper spray and rubber bullets and made at least 24 arrests. The demonstrators said they were expressing frustration at what is widely seen as indifference by the city's all-white leadership to the majority Latino population.
The immediate catalyst for the protests was the death of 25-year-old Manuel Diaz on Saturday afternoon. According to media reports, he was shot twice by police in a residential neighborhood - the first time in the leg and then, once he was on the ground, in the head. He was apparently unarmed.