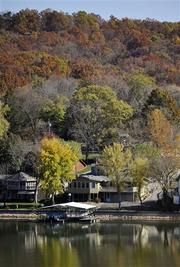 Camdenton -- Nearly every year, Patsy Riley has gotten unsolicited offers for her house on Missouri's Lake of the Ozarks with its spectacular views of tree-lined bluffs and its ample shoreline, but she never wanted to leave. Now, she and hundreds of her neighbors wonder what will become of their homes after a federal agency declared that many structures built close to the lake may have to go.
The Federal Energy Regulatory Commission, citing restrictions on private developments around dams, says thousands of residences, decks, patios and boathouses appear to encroach on land belonging to the hydroelectric project in violation of federal regulations.
The announcement has triggered panic in the area's lakefront communities and led to a growing battle among regulators, a utility company, land attorneys and the state's congressional delegation. Officials say they are searching for a way to settle the issue without mass evictions.
"We are mad as hell and we're not going to take it anymore," said Riley, who has lived at the lake for more than 30 years and estimates about half of her neighborhood is threatened.