J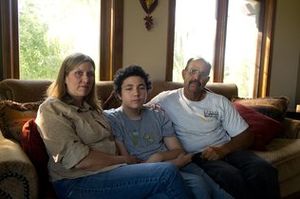 esse Mactagone lived in a sea of camouflage, with handcrafted model tanks and planes adorning his bedroom. He left home in Auburn last August, energized to attend
St. John's
Military School for Boys in Kansas.
He lasted four days.
During Mactagone's short time behind the school's brick walls, he and his family claim that students pushed him, trampled him, dragged him, threw him and kicked him, breaking both his legs and displacing his right femur several inches below the knee.
Mactagone, now 14, and the families of other former students are suing the school in Salina, Kan. The federal suit was amended last month to list 10 parents of former students and one former student as plaintiffs who allege the students were abused and tortured at the institution, which portrays itself on its website and in testimonials as a prestigious military academy that vows to keep children safe.