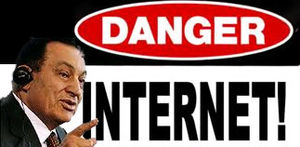 20th Century Mubarek Commits 21st Century Sin

Will U.S President Obama Take Action and Demand Mubarek Open his Net Borders?
"The whole dam thing has been shut down!" screamed a mad as hell Egyptian in the massive protest crowd today! Large parts of the Internet essentially went dark about midnight Egypt time after the government of President Hosni Mubarak, a longtime ally of Washington, ordered service providers and cell phone companies to shut down. "Under Egyptian legislation the authorities have the right to issue such an order and we are obliged to comply with it," Vodafone, one of the largest cell phone carriers, in Egypt, said in a statement.
The oppressive Mubarkek has committed a cyber-mortal sin in trying to cut people off from what has become their personal cyber lives. Facebook and Twitter have become personal extensions of the 21st century citizen. But Muburek, being that he is over 80 years of age, does not seem to understand what century he's living in and thus will pay the ultimate price for this cyber-sin. He's done!
After all, this is about social networks that are beyond the reach of Mubarak and Mubarek doesn't get it.