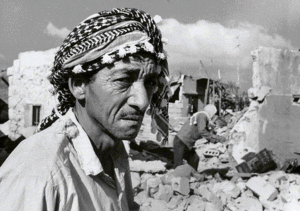 A carefully cultivated mythology sustains Israel's territorial claims to Palestine and rationalizes Israel's ethnic cleansing of millions of Palestinians from the land. Challenges to those myths are typically met with fierce counterattacks.
Soon after my Nov. 4 analysis,
"In Defense of Richard Falk"
was published by
Media with a Conscience
(MWC), the site editor forwarded to me an unusual chastising response. Unusual because it came from a relatively well-known scholar and writer by the name of Fred Skolnik.
Mr. Skolnik is the editor in chief of a 22-volume
Encyclopedia Judaica
(second edition), a work that won the Dartmouth Medal in 2007. He is also the author of numerous works of fiction all concerning life in Israel. It is not rare for Zionists to take me to task, and Skolnik is most certainly a Zionist. Yet it is rare that those who chastise are of Skolnik's stature. And so, a reply is in order.
Mr. Skolnik does not like Dr. Falk who, the reader might remember, is the present United Nations Special Rapporteur for the Palestinian Territories. And, because I defend Falk, he does not like me either. Indeed, as far as Skolnik is concerned I am part of "an army of Israel haters ... churning out endless ... venomous half truths" about the Land of Israel. Nonetheless, Skolnik has taken the time to write a three-page commentary to set me and my readers straight.
He says, "I will state Israel's case in as few words as possible, though you of course may not choose to publish this in order not to lose the effect you are aiming at." Well, that is silly. I have no objection to my readers seeing Mr. Skolnik's response. Here is how you can do so: go to the MWC site; search for Davidson; go to "In Defense of Robert Falk;" and scroll down to Skolnik's comment.