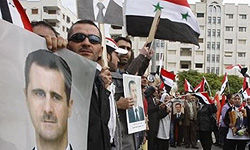 Thousands of Turkish people staged rallies in Antakya province at the country's border with Syria to voice their protest against Ankara's hostility towards the Syrian government and nation.
The Saturday rallies were organized by Turkey's Labor Party, one of the main opposition parties in the country.
During the rallies, people shouted slogans in support of the Syrian nation and leaders and lauded their resistance against the plots hatched by the West and its regional proxies.
They also condemned the setting up of bases on Turkey's soil to train terrorists under the direct supervision of the US in order to support the so-called Free Syrian Army.
The development came after revelations about the smuggling of arms to anti-government terrorist groups in Syria via the US Air Base in Incirlik in Southern Turkey sparked popular protests in the country.