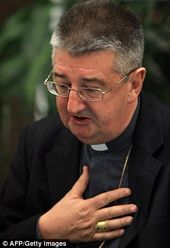 Thirty years of sex abuse by paedophile priests was covered up by the Roman Catholic Church on an 'astonishing scale', a damning report has found.
Four archbishops were among those condemned for allowing hundreds of vulnerable children to suffer so they could protect the Church's reputation.
The Catholic hierarchy was granted police immunity and Church leaders protected abusers in some cases with the blessing of senior law enforcers.
Hundreds of crimes were not reported while police treated clergy as above the law, investigators said.
The report examined the handling of only a 'representative sample' of allegations of child abuse by 320 children against 46 priests in Dublin between 1975 and 2004.