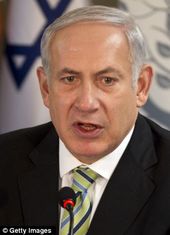 The UK and U.S. are drawing up plans to attack Iran amid growing tensions in the Middle East, it was claimed last night.
Barack Obama and David Cameron are preparing for war after reports that Iran now has enough enriched uranium for four nuclear weapons.
President Mahmoud Ahmadinejad's hardline regime in Tehran has been linked to three assassination plots on foreign soil, according to senior officials in Whitehall.
Iran has come sharply back into focus following the end of the Libya conflict.
President Obama said Iran's nuclear programme continues to pose a threat and that he and French president Nicolas Sarkozy want the international community to maintain pressure on the country to admit its intentions.
And the unrest has been inflamed by sabre-rattling from top politicians in Israel.