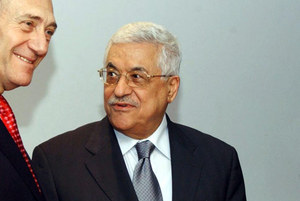 ©Omar Rashidi/MaanImages/POOL/PPO
After deposing the Hamas government, Palestinian Authority Chairman Mahmoud Abas meets with Israeli Prime Minister Ehud Olmert in Sharm al-Sheikh, Egypt. King Abdullah of Jordan and Egyptian president Hosni Mubarak were also present at the meeting arranged to discuss Hamas' control of Gaza, 25 June 2007.
The boycott by Israel and the international community of the Palestinian Authority finally blew up in their faces with Hamas' recent bloody takeover of Gaza. Or so argues Gideon Levy, one of the saner voices still to be found in Israel. "Starving, drying up and blocking aid do not sear the consciousness and do not weaken political movements. On the contrary ... Reality has refuted the chorus of experts and commentators who preached [on] behalf of the boycott policy. This daft notion that it is possible to topple an elected government by applying pressure on a helpless population suffered a complete failure."
But has Levy got it wrong? The faces of Israeli and American politicians, including Ehud Olmert and George W. Bush, appear soot-free. On the contrary. Over the past fortnight they have been looking and sounding even more smug than usual.