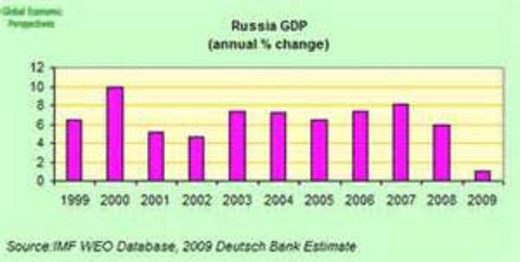 The recession in Russia will run deeper and longer than it appeared even a few months ago, the World Bank concluded in a report released Wednesday, underscoring the impression that Russia has been one of the countries hit hardest in the downturn.
The Russian economy, which seesaws from boom to bust along with commodity prices in the best of times, has experienced the most extreme swing from growth to contraction of any large economy in the current downturn.
The bank's new projection showed that the Russian economy would contract by 7.9 percent this year and not recover to precrisis levels until at least 2012. Just before the crisis reached here, in the first quarter of 2008, Russia had been growing at an annual rate of 8.7 percent.
The bank's estimate was all the more remarkable because oil prices have recovered recently, a positive sign for resource-dependent Russia. About two-thirds of exports, for example, are made up of oil and natural gas. Yet the International Monetary Fund, the Russian government and private banks all project slower growth.