A rare Canadian landscape painting has gone from a table at an Ontario yard sale to attracting the attention of art connoisseurs across the country - and will go a long way toward the future education of an unborn child.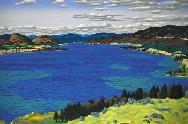 ©CP
Lake Okanagan was painted during E.J. Hughes's prime period after a 1958 Canada Council-funded visit to the B.C. Interior. Paul Martin bought it for $200 six years ago.
A painting by British Columbia artist E. J. Hughes will come under the hammer next week at Heffel Fine Art Auction House, six years after an enterprising art collector found it at a rural yard sale.
The painting, originally purchased for $200 cash, is expected to fetch more than $100,000 at auction.