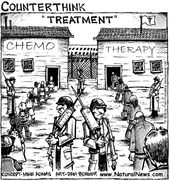 If there's one thing that cancer doctors and health authorities can't stand, it's being wrong. And in the case of 13-year-old
Daniel Hauser
, the cancer doctors insist that unless the boy submits to chemotherapy as a "treatment" for Hodgkin's Lymphoma, he will almost certainly die.
But there's a problem with that claim. The problem is a man named Billy Best, now 31 years old, who was diagnosed with Hodgkin's Lymphoma at the age of 16. Like Daniel Hauser, Billy Best was told he would die if he didn't submit to chemotherapy. But with remarkable courage and wisdom about his own body's healing capabilities, Billy Best fled the health authorities, ran away from his family and began eating roots, superfoods and medicinal herbs. He regularly drank an alternative cancer liquid formula (made from plants) and before long his cancer was cured.
Billy, of course, is alive and well today... fifteen years after his cancer doctors said he should be dead.