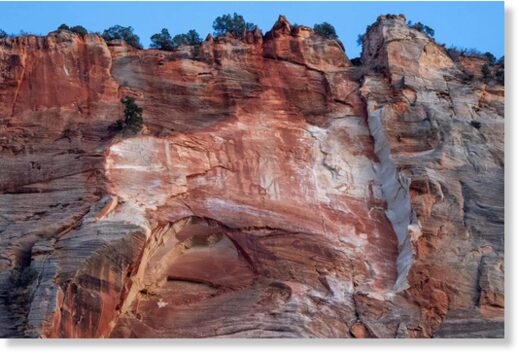 A large rockfall in Zion National Park stunned park guests, temporarily stopped traffic and covered the parking lot of a popular trail in a massive dust cloud.
National Park Service rangers said they received reports of a rockfall near Weeping Rock at 3:40 p.m. Tuesday.
Rangers found a large dust cloud on the road, which also interrupted the park shuttle bus service in the area until about 5 p.m.
Photos from the NPS showed the sandstone peak near Weeping Rock covered in rock debris and dust from a rockslide.
Nearby tour guide Nolan Hanson captured the rockfall as it happened. saying it "sounded like thunder."
In the video, Hanson remarked there were people near Weeping Rock at the time of the rockfall.
The NPS officials said no one was injured during the incident.
"Thankfully, park rangers did not need to treat any injuries," Zion National Park Superintendent Jeff Bradybaugh said. "Rockfall can happen at any time in this highly erosive landscape."
The Weeping Rock parking lot was covered in dust. The area, including the hiking trail, will remain closed until further notice. Park scientists and maintenance staff will assess the rocks in the area to determine when it's safe to reopen.
According to the NPS, a rockfall is a natural geologic process when rocks suddenly detach and rapidly move downward.
These kinds of events are common in the rocky Utah landscape. In May, another
large rockslide was recorded on video near Kolob Canyons
near Zion National Park, and in March, a rockfall caused significant road damage to Zion Canyon Scenic Drive.