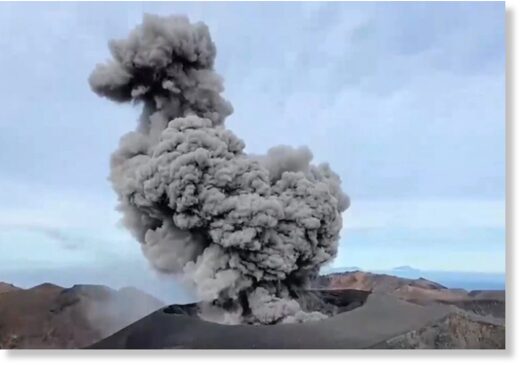 Just a week after the previous eruption, the Kuril volcano Ebeko, located on the island of Paramushir, again emitted a powerful column of ash. This time, specialists from the All-Russian State University for Civil Defense and Emergency Situations reported that the volcano had already been assigned an orange aviation hazard level due to its activity. The Shiveluch volcano in Kamchatka is now just as dangerous.
- Volcanic activity is being recorded again in the Far Eastern Federal District. The Shiveluch and Ebeko volcanoes have been assigned an orange level of aviation danger," the VNII GOChS commented on the situation.
The video of the eruption was published on the telegram channel t.me/kurilband.
Let us remind you that a week ago, on September 21, the volcano also ejected a column of ash. According to information from the Sakhalin volcanic eruption response team of the Institute of Marine Geology and Geophysics, Far Eastern Branch of the Russian Academy of Sciences, the height of the previous ash emission was 2.5 kilometers above sea level. The plume spread five kilometers towards the east.
On average, Ebeko erupts once or twice every month. Sometimes the height of the ash column reaches 4-5 kilometers above sea level.
Both volcanoes are active and it is absolutely normal for gases to be released or stones to fly from the craters, but now the situation has changed somewhat. Volcanologist Olga Girina told what is happening under the earth's crust .
The activity of the Ebeko volcano is unpredictable: at any time, ash and rock fragments can be released up to 6 kilometers above sea level, and debris can fall within a radius of several kilometers from the volcano. This is very dangerous, since any such pebble can kill a person. Tourists should remember that jokes with an active volcano are dangerous, the specialist said.
Ebeko Volcano is one of the most active volcanoes in the Russian Far East. It is located on Paramushir Island, which is part of the Kuril Islands. The Ebeko volcano regularly displays its power through eruptions, throwing lava, ash and gases into the atmosphere.
The height of the volcano is 1156 meters.
(Google translation)