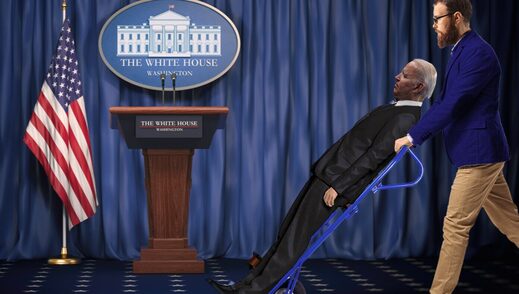 The White House announced a new directive Tuesday they say will put an end to President Joe Biden's endless pratfalls once and for all: transporting the leader of the free world on an official presidential hand truck.
"Whoa, look at me go!" Biden said excitedly as he was pushed up the tarmac to Air Force One. "I'm flying!"
The presidential hand truck was specially designed by the nation's top scientists and is reportedly able to withstand the blast of a nuclear bomb.
"This baby is made out of the same heavy-duty material as the space shuttle," said Press Secretary Karine Jean-Pierre as she introduced the stylish presidential hand truck, code-named Limp. "It's completely bulletproof and capable of speeds in excess of 5 miles per hour."
According to sources, Biden is impressed by the hand truck's ability to whisk him away from journalists who keep asking him annoying questions about his undeniable corruption.
"Whoosh!" Biden cried out on one such occasion. "Frender limbergrander, man! Weeeeeeeee!"
At publishing time, the president had honored the hand truck with a Presidential Medal of Freedom.