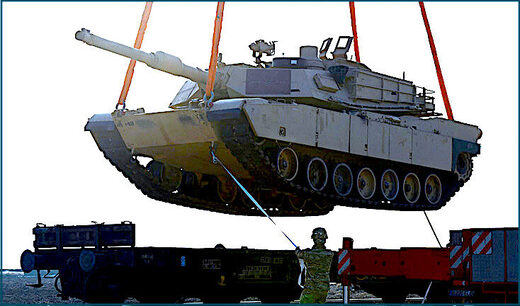 US-supplied Abrams tanks should only be deployed by Kiev
in specific breakthrough operations,
or they will be quickly destroyed by Russian forces,
Kirill Budanov, head of the Main Intelligence Directorate (GUR) of the Ukrainian military,
has said.
Ukraine is "looking forward" to receiving the 31 Abrams M1 main battle tanks that Washington promised to provide in January, according to Budanov in an interview with the War Zone website on Friday.
During their meeting at the White House on Thursday,
US President Joe Biden told his Ukrainian counterpart Vladimir Zelensky that the first Abrams M1s will be arriving in Ukraine "next week."
However, the spy chief warned:
"If the American armor is deployed on the front line and just in a combined arms fight, they will not live very long on the battlefield with Russia. In order to make the best use of the tanks, Kiev should only engage them in very specific, well-crafted breakthrough operations."
Budanov explained:
"The wide use of artillery and mines by both Russian and Ukrainian forces has reduced the possibility of using armored equipment in practically all of the main directions to the minimum. If we just deploy some battalion tank group into the battlefield somewhere, just as soon as it gets under the range of artillery it will get hit. Currently, all main instances of fighting are done on foot without using any materiel."
Budanov also spoke about the long-range ATACMS
(Army Tactical Missile System) missiles,
which were absent from the latest military aid package
announced by Biden despite Kiev having requested them for months.
The spy chief said the missiles are needed by the Ukrainian forces
to target Russian airfields, command posts and ammunition depots
in what he called "occupied areas of Ukraine,"
including Crimea.
He said he did not know if Kiev would eventually get ATACMS or not, in the absence of an official announcement by Washington. "There are still different ways how this situation can turn out," Budanov stressed.
NBC News reported on Friday that the US would provide Ukraine with a "small number" of ATACMS.
But the spy chief claimed that
"if it's 100 missiles, this won't change the situation" for Kiev.
Russia has repeatedly warned that deliveries of weapons to Ukraine by the West will only prolong the fighting, but will not prevent Moscow from achieving the goals of its military operation. Speaking about Washington's assistance to Kiev amid the conflict last week,
Russian Foreign Minister Sergey Lavrov said the US is "sending weapons, ammunition, intelligence, and satellite data. They are waging war against us."