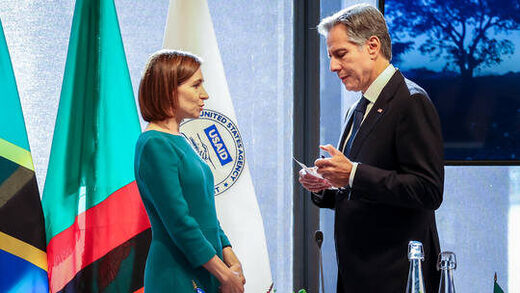 Moldova's opposition leader has accused the head of state, Maia Sandu, of being directed by outside powers seeking to bring the country into NATO.
Igor Dodon, a former president, warned in a live stream on social media on Friday that
President Sandu and the ruling Action and Solidarity party "will do everything in the near future - in a year and a half - for Moldova to change the Constitution and abandon its neutral status."
"Sandu has a task from those who control her from abroad, to make Moldova a part of NATO," he claimed.
Taking Moldova, a post-Soviet republic and neighbor of Ukraine, into the US-led military bloc would be equal to "involving the country in the conflict," the opposition leader warned. "Give up on tying us with NATO," he urged, addressing Sandu.
Since Sandu replaced Dodon as president in 2020, Moldova has taken an increasingly pro-Western course.
Chisinau has fully backed Kiev in the conflict with Moscow
. Last year, the nation of 2.6 million was granted the status of an EU candidate, together with Ukraine.
In an interview with Politico in January, Sandu said there was "a serious discussion" in Moldova "about our capacity to defend ourselves, whether we can do it ourselves, or whether we should be part of a larger alliance." However, if the country makes the decision to give up its neutrality, it will happen "through a democratic process," she pledged.
In NATO's statement following its summit in Vilnius in July, the bloc said it was "committed to supporting Moldova as it advances its European integration." The alliance stressed that it respects the country's neutrality, but vowed to continue providing assistance to Chisinau through its Defense Capacity Building Package.
NATO also called on Moscow to withdraw Russian peacekeepers from the breakaway region of Transnistria, where they have been monitoring a ceasefire between Moldova and local forces since 1992.
Russia's Foreign Ministry said the peacekeepers have proven their "relevance and effectiveness" over the years, with their presence in the area being key to reaching a political settlement between Chisinau and Tiraspol.