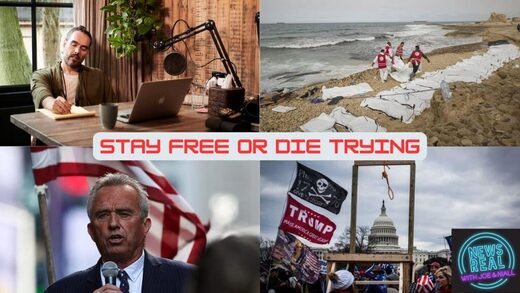 Popular online commentator Russell Brand is the latest truth-speaker to feel the wrath of totalitarian corporate media executives and global government institutions. Revealing the fruits of a "years-long, in-depth investigation" into everything Brand has ever said or done, British legacy media gatekeepers have unearthed four women they allege were "raped or emotionally abused" by the ex-celebrity.
On the back of this, it seems, they hope to either induce Brand into shutting up and/or losing public viewership. Meanwhile, the farcical indictments against Trump continue, with the judge in his federal case (concerning "election subversion by questioning the result of the 2020 US presidential election") refusing to recuse herself following her harsh sentencing of January 6th "insurrectionists."
Also in this
NewsReal
, Joe and Niall highlight the security breach at RFK Jr's Los Angeles campaign rally, discuss the US Congress revelation that CIA scientific experts were bribed in early 2020 into supporting the zoonosis theory for Covid's origins over the lab-leak theory, and survey the epic destruction wrought by Storm Daniels in Libya - 'man-made' climate change indeed...
Running Time:
01:32:01
Download:
MP3
— 63.2 MB
This podcast is also available to view, share and download on
Rumble
,
Odysee
and
VK
.
Show Notes