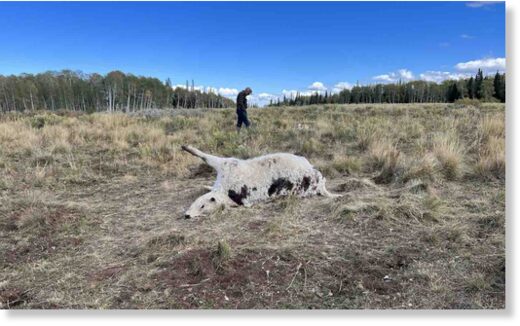 Whatever caused the sudden deaths of dozens of cattle in northwestern Colorado late last year remains elusive, according to officials who ended their investigation into the matter last month.
The unexplained incidents received widespread media attention, giving rise to speculations involving everything from wolf depredation and soil based pathogens, to stirring — but unfounded — claims of a mysterious "creature" that "left no tracks" responsible for the killings.
However, an investigation by The Debrief based on documents obtained through Colorado Open Records Act (CORA) requests, as well as interviews with investigators who probed the mysterious deaths, have revealed new details about the incidents that perplexed state officials and local cattle farmers on Colorado's Western Slope last year.
An Unsettling Discovery
THE ORDEAL BEGAN in early October 2022, with the discovery of several calf carcasses strewn about the 13,000 contiguous deeded acres that comprise the family-owned and operated LK Ranch, located eight miles southeast of Meeker, Colorado.
Bordering Colorado's scenic White River National Forest, one of the country's most-visited national parks, the ranch is operated by the Klinglesmith family, a well-known and respected mainstay of the Meeker community and past
recipients of a Wildlife Landowners of the Year recognition
by Colorado Parks and Wildlife.
"The Klinglesmiths are the epitome of the rural, hard-working cattle rancher," said Baily Franklin, Meeker District Wildlife Manager at the time of the family's recognition, "and they serve as tremendous role models in northwestern Colorado."
On October 4, 2022,
the family discovered a total of 19 calf carcasses on their property, along with the remains of one adult cow
. Eighteen of the calves were all located
within just 1.5 miles of one another
, and Colorado Parks and Wildlife (CPW) and U.S. Department of Agriculture (USDA) Wildlife Services were quickly notified.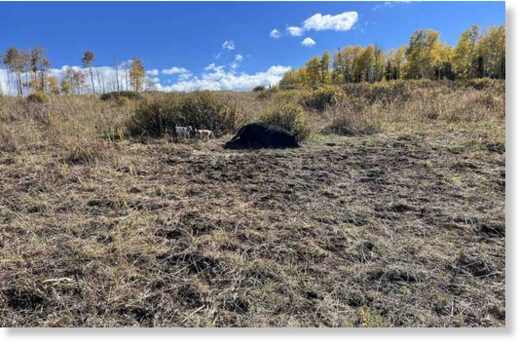 "We were first notified about October 4 of a livestock producer that had found some dead cattle," said CPW Northwest Region Manager Travis Black in an interview with The Debrief
.
Black said a local CPW District Wildlife Manager and the USDA Wildlife Services control specialist were accompanied by another local officer from a neighboring region during an initial visit to the location where the remains were located.
"
Several carcasses had tails missing and marks consistent with canine teeth
," the Klinglesmith family would later report in an
update
on the investigation that appeared on November 28, 2022. While the carcasses appeared to display hemorrhaging in locations where CPW investigators are trained to look for signs of depredation by canines, the possibility that wolves might have been involved presented unique challenges for investigators trying to determine whether an animal was responsible for some of the killings.
"Our district wildlife officers are trained in identifying depredation primarily from bears and [mountain] lions," Black told The Debrief
.
"Wolves [are] a new one for us,"
Black said, although emphasizing that the neighboring CPW officer who assisted in the early investigations had recently undergone training specifically focused on recognizing wolf depredation.
"The local district wildlife officer had twenty-plus years doing this job," Black said. "It's not like this was a new guy that didn't know what he was doing."
Necropsies were carried out on several of the earliest calf discoveries to aid in determining their cause of death.
On October 7, an additional calf carcass was discovered
, this time in the Wilson Pasture area along the east fork of Flag Creek, according to a partially redacted document providing a timeline of the discoveries obtained by
The Debrief
through an Open Records Act request.
Two days later, on October 9, another carcass was discovered
at West Miller Creek, and over the course of the next two weeks,
the total number of dead calves would climb to 42
, excluding two additional deaths resulting from sick calves found by the Klinglesmith family on October 9 believed to have been suffering from Brisket disease, a condition found in cattle residing at high altitudes that sometimes results in heart failure.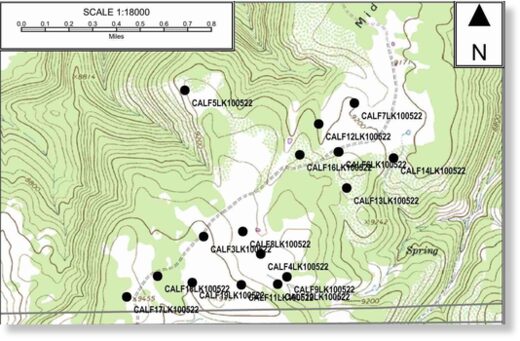 However, as the investigation continued and additional cattle remains were discovered, one perplexing common trait began to emerge:
only a handful seemed to show what CPW officials believed to be signs of wolf depredation.
"The three individuals involved, along with the landowner, decided that there were some injuries on a handful of these calves," Black told The Debrief. "And I'm talking about
four or five of them
, not all eighteen."
"A lot of those dead calves
didn't show any physical marks on the outside
, but there were a handful of them that they determined were consistent with wolf depredation," Black said.
"That does not mean that we said wolves did it."
However, as investigators worked to understand what factors — or combinations of them — were behind the cattle deaths, the question over wolf involvement only promised to further aggravate a brewing storm that Colorado officials had long been dreading; one with roots that extend all the way back to the early 19th century, and the era of government-sanctioned wolf hunting in America.
Of Wolf and Man
DURING THE MIDDLE of the nineteenth century, beavers and other animal populations were in acute decline due to a demand for their pelts. As a result, many professional hunters turned their attention toward a new quarry that was capable of demanding comparable prices in the burgeoning fur trade.
Employing poison traps baited with elk, bison, or other natural prey of the canine predators to help ensure their pelts could be retrieved intact, between the years of 1870 and 1877 as many as 100,000 wolves were killed annually.
The era of the "Wolfers" had begun.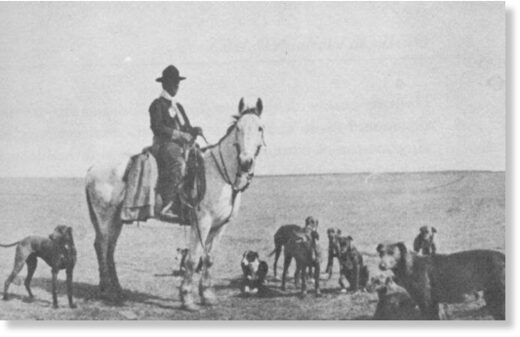 More than two centuries earlier, the first bounty systems on wolves were instituted in European settlements in America. A cash reward of a penny for each of the animals killed was instituted in Massachusetts Bay Colony as early as 1630, and by 1818 with the declaration of the "War of Extermination" against wolves and bears in Ohio, several more states began adopting bounty systems against wolves.
Shortly before its establishment as a state on August 1, 1876, a bounty system was established in what would become the State of Colorado in 1869. Similar bounty systems were established in Wyoming, Montana, and other states during the ensuing decades. By the turn of the century, wolf populations had declined significantly in many parts of America. In 1915, the first official government wolf hunters were hired, remaining in action until June 30, 1942. During this period, more than 24,132 wolves were killed under the direction of the United States government.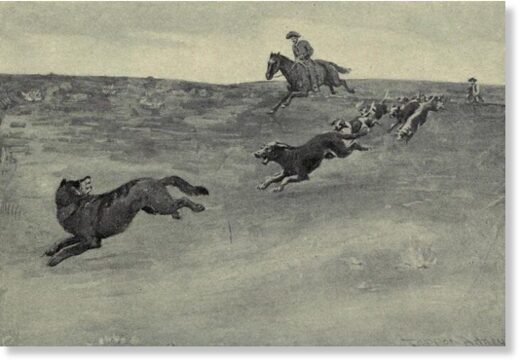 By the 1960s, wolf populations in the contiguous 48 states had reached record-low numbers, with scattered pockets of the remaining 350 to 750 animals existing in parts of extreme northeastern Minnesota. With the passing of the Endangered Species Preservation Act in 1966, the timber wolf became the first species of American wolf that officially became recognized as endangered under federal law.
The protection of this single wolf species didn't stop the animals from being killed, however. Between 1969 and 1974, in response to ongoing depredation of livestock, a Directed Predator Control Program conducted by the Minnesota Department of Natural Resources still resulted in the killing of an average of 64 wolves each year, with $50 incentives offered to designated trappers in various parts of the state who harvested wolves. It wasn't until the Endangered Species Act of 1973 was enacted by Congress and implemented under the direction of the United States Fish and Wildlife Service (USFWS) that gray wolves and subspecies like the eastern timber wolf and Rocky Mountain wolf finally saw federal protection.
Recovery plans to help re-establish the decimated American wolf populations began in the late 1970s in various states, mostly undertaken by the USFWS, although the reinstatement of trapping resulting from the depredation of livestock continued for short periods in several states.
By the end of the century, work to manage wolf populations in various states continued. Throughout the early 2000s, the reclassification of gray wolf populations into three distinct population segments, as well as the proposed delisting of wolf species and other developments related to wolves in America, resulted in several legal controversies (an entire
timeline of events
detailing these events can be found at the website of the International Wolf Center).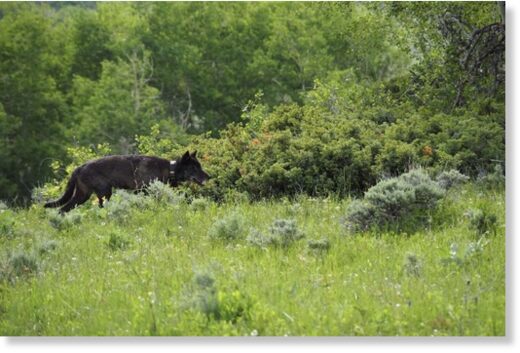 In October 2020,
the gray wolf was removed
from the Endangered Species Act list of endangered animals in the contiguous 48 United States. In November of that same year,
Proposition 114
, a ballot initiative that sought to reintroduce wolves west of the continental divide in Colorado, went to vote and was passed. Now recognized as
state statute 33-2-105.8
, it directs the Colorado Parks and Wildlife Commission to develop a gray wolf reintroduction and management plan no later than December 31, 2023. It also allocates state funding to aid livestock owners "in preventing conflicts with gray wolves and pay fair compensation for livestock losses."
Then, in October 2022 as dozens of dead calves were being found on the LK Ranch southeast of Meeker, Colorado, CPW officials realized they had a real problem on their hands.
That would especially be the case if wolves were found to be responsible.
Cattle Deaths and Conspiracy Claims
AS THE INVESTIGATIONS continued, Colorado officials remained baffled by the strange cattle deaths. Despite the questions that remained, a handful of the incidents did appear to present indications of canine activity. On October 7, 2022, CPW
issued a news release
revealing to the public that investigations into possible wolf depredations on U.S. Forest Service Land in the Meeker area were underway.
"This is an active investigation and CPW is working closely with the livestock producer to collect additional evidence, including looking for scat and tracks in the area," the release stated. "If the depredations are confirmed as being caused by wolves, CPW will work in partnership with the livestock producer to implement approved hazing methods and respond to any damage claims submitted."
"It is important to note," the release added, "that no wolf reintroductions have taken place yet in Colorado and recent depredation incidents are not related to or a result of wolf reintroduction efforts in Colorado."
Despite its careful wording, pushback following the CPW's October news release came almost immediately.
"I received emails, mostly from wolf advocates, that were concerned that misinformation was being provided to the public and to ranchers," Black told The Debrief, who said he became an easy target for parties who believed CPW was siding with local livestock producers worried about how the reintroduction of wolves could potentially impact their business.
"I was accused of collusion," Black said, "and cooperation with livestock producers to try and stir up, you know, fear of wolves."
"And it couldn't be further from the truth," Black said of the allegations. "We were just trying to follow an investigative process and figure out exactly what happened in a very unusual case."
According to a copy of a livestock depredation guide produced for internal use by CPW officials that The Debrief obtained, wolf depredation is usually indicated by wounds inflicted to the hindquarters, flanks, throat, and front legs of large animals like cattle. Wolves also prefer most often to feed on the viscera and hindquarters of large livestock first, although large bones "may be chewed or broken while smaller bones may be consumed," and such feeding patterns "are not always obvious on prey killed by packs."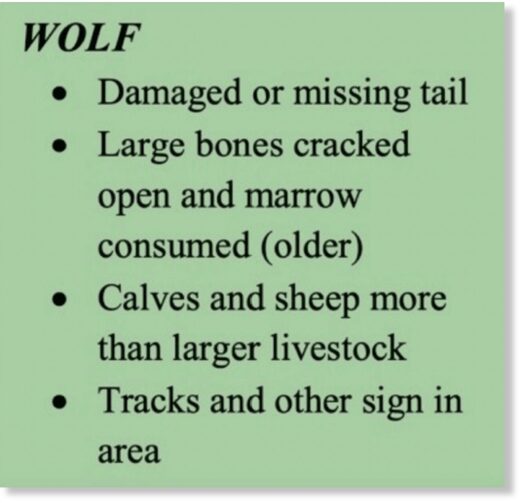 The guide also provides details on the spacing of puncture wounds left by canine teeth, noting the difference between those of wolves and coyotes generally involves a wider width when wolf depredation is involved. The spoor left by wolves is also larger than that of coyotes, with adult wolf tracks generally around 4.75 to 5 inches in length and 4 inches wide.
A Colorado Parks and Wildlife wolf support work summary dated October 24, 2022, states that biologists from the White River National Forest set up ten wildlife cameras in the area on October 11, 2022, just days after the initial group of dead calves were found.
"Reconyx cameras were used and placed on trees 7-9 meters across from another tree scented with a lure attractant," read a copy of the document obtained by The Debrief. Additionally, a pair of howling stations were established along Forest Road 217 on the same day the cameras were installed.
"We removed all cameras on October 21st," the document states.
"No wolves were photographed on our cameras during the deployment window of October 11-21."
Additionally, howling surveys conducted during the same period the cameras remained in use
produced no audio recordings of wolves
, and investigations along muddy areas near where one recently deceased calf body had been discovered
"showed no canine tracks," and "no scat was noted."
At least a few scat samples collected and analyzed at other locations by CPW investigators "did not provide any DNA amplification," according to emails reviewed by The Debrief, although a total of 14 hair samples were also collected during this period. One of the hair samples provided no amplification, and 12 were identified as bovine. Intriguingly, the final sample was determined to belong to a "wild canid," although the research molecular biologist who performed the analysis said it had "a messy analysis and indicated coyote," but added that "not much should be read into that as the sample was very degraded."
The Debrief
reached out to the biologist who provided these results, although the individual declined to comment further based on their limited involvement with the CPW's investigation.
The question remained, then, as to what had been responsible for the deaths of more than 40 cattle around Meeker, Colorado, within a few short weeks. By now, with little evidence to support the presence of wolves in the area,
some investigators were leaning toward the possibility that a very different kind of killer might have been involved.
A killer of the unseen kind.
On the Track of an Invisible Killer
AS THE DAYS wore on and more dead calves continued to be found, investigators were becoming convinced that the evidence in hand simply did not support the conclusion that wolves could have had any significant involvement. Eventually, a new possible explanation came to their attention:
a soil-based pathogen
called
clostridium chauvoei
associated with a condition called black leg, known to sometimes occur in both cattle and sheep.
"As we researched this clostridial disease and outbreaks in other regions of the world with large casualties, some similarities to this situation were recognized," the Klinglesmith family wrote in their November 2022 update. Still, one of the prevailing questions involved what circumstances might have caused a large number of cattle to suddenly fall victim to this unseen pathogen.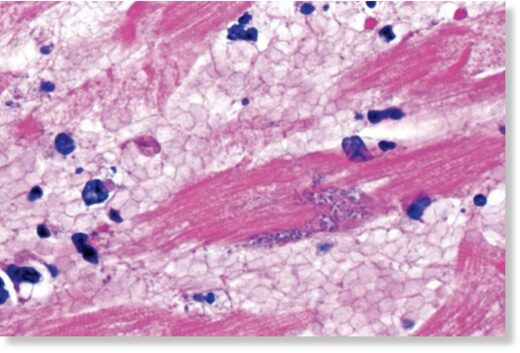 According to one study cited in the family's November update, "when the oxygen tension drops in areas of muscle in which spores are present, usually as a consequence of blunt trauma and associated tissue hemorrhage, degeneration, and necrosis, the spores germinate, proliferate, and produce toxins that are responsible for most clinical signs and lesions of black leg." Such conditions would also seem to be consistent with the small number of initial cattle deaths around Meeker that displayed evidence of canine depredation.
Another possible factor involved a management decision among producers in the area to change the normal vaccination schedule, which usually entailed a spring and fall dose of 8-way vaccine, and instead administer a pair of fall doses. "The 8-way vaccine contains and protects against eight clostridial strains," the Klinglesmith family wrote in their November update. "This change in vaccine protocol allowed us to focus spring immune responses on the four main respiratory viruses, and Pasteurella."
"Our goal in changing vaccine protocol was to administer fewer antibiotics throughout the summer months for respiratory sicknesses," the family wrote, "and we were successful in this aspect."
However, the change in vaccine protocol may have also left several cattle that season susceptible to any forms of clostridium that might be present. In their update, the Klinglesmiths noted that "if in fact a clostridial was triggered by an attack, with a return to our original vaccine protocol we should be able to avoid the heavy casualties," thereby reducing "our losses to a few depredation casualties," and maintaining a strategy that "fits the research and experience consistently reported in the Northern Rockies."
Ultimately, the results from pathology tests for the presence of
clostridium chauvoei
would be the final say in the matter. But before those tests could be completed, the sobering number of unexplained cattle deaths occurring around Meeker had already become the subject of significant attention from the media, which only further complicated an already uneasy situation for CPW officials.
It certainly didn't help that
among the speculations now in circulation were new claims of a "mysterious creature"
that could have been responsible for the killings.
Mysterious Mutilations and Killer Creatures
THROUGHOUT THE EARLY 1970s, a wave of unsettling
livestock deaths and mutilations
captured the attention of people across the nation, deaths the likes of which Colorado had its fair share.
"Given the rate of human slaughter in any large American city, it might not seem too important that between April and September of this year 129 cattle were mutilated in the state of Colorado," read an article by Alexander Cockburn in the December 1975 issue of
Esquire.
Similar stories appearing around the time drew attention from politicians like U.S. Senator from New Mexico Harrison Schmitt, as well as U.S. Senator Floyd Haskell of Colorado, who began to appeal to then-Attorney General Griffin B. Bell and the Federal Bureau of Investigation for help in the matter.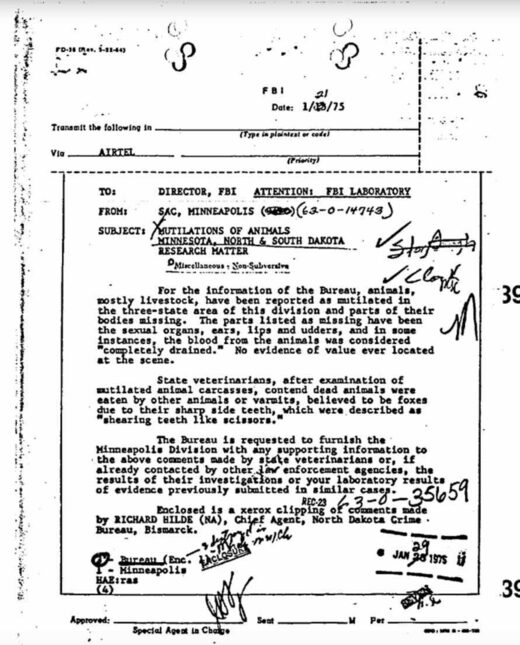 "If the FBI will not enter the investigation of mysterious livestock deaths in Colorado and some adjacent states, then Sen. Floyd Haskell, D-Colo., should take the matter to Congress for resolution," read a
Denver Post
article on September 3, 1975. The FBI, citing the absence of "interstate transportation" that would warrant attention from federal authorities, advised that "Our jurisdiction was explained to Senator Haskell and he said that he understood our statutory limitations," according to a September 12, 1975 memorandum (the FBI's entire collection of files related to animal mutilations
can be read online here
).
Quite unlike the cattle deaths that occurred near Meeker, Colorado, last Autumn, the cattle mutilation incidents that peaked during the mid-1970s reportedly involved animals found dead
with selected organs and other body parts removed, and often blood drained from their carcasses
. Between 1973 and 1976 alone,
more than 1500 alleged cattle mutilations in 22 U.S. states
were reported, prompting speculations about everything from satanic cults and secretive government research efforts to
UFOs
.
Although many of the cattle mutilation incidents from throughout the decades remain unsolved, nothing that conclusively links them to cultists, government agencies, or aliens with a flavor for filet mignon has ever surfaced. However, the persistence of such stories throughout the decades — tales now legendary among many Colorado cattle producers — did little to help the situation when dead calves started appearing around Meeker last October.

Comment: A slight correction. There has never been a single arrest for a cattle mutilation (with drained blood and missing organs, in which the mutilation cannot be the result of natural predators) in the past 50 years. It is perhaps the largest crime spree in U.S. history for which there has not been a single clue, piece of evidence, or sign of the perpetrator. And it happened all over the United States.


Black recalled one phone call he received from a family member who "asked if we had aliens or something."
"There were a lot of kinda wild theories thrown out there," Black told The Debrief.
By the end of November 2022, characterizations of the Meeker cattle deaths as having involved an "
elusive predator
" or a "
mystery killer
" began appearing after the publication of an
article
in the
New York Post
which, although correct in most of the details about what was known at the time about the evolving investigations by CPW and other Colorado officials, built intrigue by attributed dozens of the cattle deaths to an unknown predator "that has left no tracks."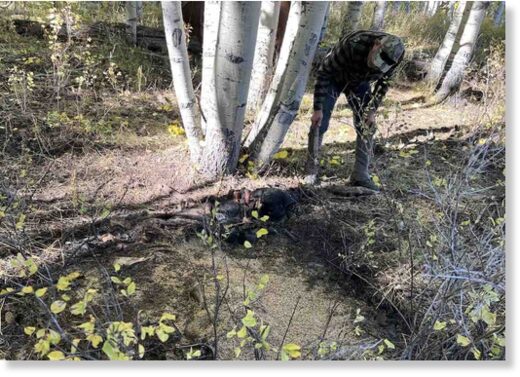 Based on emails from officials obtained by The Debrief through Colorado Open Records Act requests,
the sensational media coverage of the situation did not go unnoticed by CPW investigators, who were growing increasingly frustrated by the elusive source behind the cattle deaths
.
"I'm sure you're aware of the consternation about the deaths of Lenny Klinglesmith's cattle, and it seems to be getting worse,"
read one email reviewed by
The Debrief
, where an official referred to an article by one news outlet as
"not very good in multiple ways."
"I'm sure you can appreciate that the press will write a story (both good and bad), and that is out of our control,"
another email message read.
"If some want to jump to conclusions, that is their prerogative,"
it continued.
"Yes, the speculation isn't helping,"
the official wrote.
"Neither will pushing for a final answer without due diligence."
Another email exchange on November 30, 2022, noted that
"The media continues to twist this story how they see fit,"
adding that
"One side wants to downplay wolf involvement. The other wants to blame wolves."
Speaking with The Debrief, Black recalled his own frustrations over the media coverage the CPW's investigation generated.
"We can't control what the media says," Black told The Debrief
.
"We tried to provide as detailed information as we could during this event, and they tend to pick and choose pieces of that or take some of it out of context and develop their own story."
However, the details of that story would only become more complicated once the results of pathology tests for possible clostridium infection finally returned.
Inconclusive Analysis
ON OCTOBER 20, 2022, results from the Colorado State University Diagnostic Laboratory returned with pathology results from samples collected at the scene of several of the Meeker cattle deaths. While noting the presence of "
significant autolysis in the skeletal muscle sections
which makes interpretation difficult," the results of the analysis nonetheless concluded that
"there is no evidence of necrosis or active inflammation to suggest Black Leg,"
the infectious bacterial disease associated with
clostridium chauvoei
.
Another series of samples tested by the Texas A&M Veterinary Medical Diagnostic Laboratory
yielded similar results
on October 21, 2022, indicating "no microscopic lesions in the tissues examined that explain the cause of death in this animal."
"This is frustrating," Black wrote in an email to another CPW official dated Wednesday, November 30, 2022. "Initial assessments made by [District Wildlife Managers] and Wildlife Services staff said there were multiple injuries consistent with wolf depredation. I've seen some of the photos...
I understand why they made that assumption. However, there is no other supporting evidence."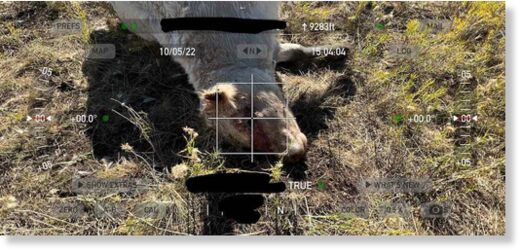 "Then the possibility of Clostridium bacteria came up," Black's email continued. "This seemed to answer a lot of questions. Then samples and lab analysis failed to positively point to this as [the] cause of death."
"It also creates a lot of room for conjecture,"
Black wrote. "Did wolves chase the cattle or attack them initially and cause a low oxygen environment within tissue that exacerbated the bacteria and created a toxin? Or is this natural progression of the disease?"
"Nobody can seem to give us a definitive answer."
The Investigation Ends, and Questions Remain
ON FEBRUARY 7, 2023, four months after the first dead calves were discovered near Meeker, CPW announced that it was closing its investigation, despite there being no conclusive explanation that could account for all the cattle deaths.
"CPW investigators could not determine the exact cause of death for a few calves with hide damage and trauma consistent with a canine attack," the
news release stated
.
According to the CPW release, the discovery of a pack of nine dogs seven miles from where the cattle deaths occurred that were blamed for harassing wildlife, "cast doubt on whether wolves were in the area."
"CPW is working with the Rio Blanco County Sheriff's office on a call-by-call basis and will deal with any domestic dog issues according to legal processes," the release added.
Black was quoted in the release saying that while some cattle displayed wounds that were "consistent with injuries from large canines," there had been "no confirmation of wolves in the area," adding that "we do not have specific evidence to determine what species of canid caused the depredations."
In Colorado, a 90-day window is allotted for producers to present proof of loss when deaths suspected to be the result of animal depredation occur. Following last October's cattle deaths, the investigation by CPW was officially closed after the expiration of this window period.
"The Klinglesmith family would like to thank the local DWMs and veterinary staff for the many hours spent in the field and in the office investigating this incident," Lenny Klinglesmith was quoted saying in the release, which added that his family did not plan to pursue compensation for the losses "Due to lack of evidence of wolves in the area."
One week later on February 14, The Humane Society of the United States
reported
that wolves had been ruled out as a cause behind the Meeker cattle deaths, admonishing CPW officials for assessments they said "led to anti-wolf hysteria" among residents and certain stakeholders on the Colorado Western Slope.
"A wildlife expert who examined photos of dead cows obtained by the Humane Society of the United States (HSUS) in an open records request has concluded that wolves are not to blame for the deaths of 41 cattle whose bodies were found near Meeker, Colorado in 2022," the press release read.
According to a
report
based on a review of CPW documents provided by the HSUS, Carter Niemeyer, a former U.S. Department of Agriculture District Supervisor and Wolf Management Specialist wrote that there wasn't any evidence that supported wolf involvement in the cattle deaths in Colorado last year.
"Based on the evidence in these photos," Niemeyer wrote in his report, "it [is] my opinion that wolves had nothing to do with the death of Meeker cattle.
I don't really see any evidence of dog bites either.
Although they can be less damaging, dogs can inflict serious injuries to the legs of cattle or even the faces/nose."
"I believe the cattle died fairly quickly where they were standing,"
Niemeyer continued,
"and the cause had nothing to do with predation of any sort."
Niemeyer also raised the question of whether Brisket disease might have played a more significant role in the deaths, based on communications that referenced a pair of cattle deaths that were believed to have been caused by this condition.
"My question would be - If a couple of cattle died this way, it is reasonable to assume others did too," Niemeyer wrote. "Brisket disease is a well-known and recognized condition in cattle that graze at high elevations in Colorado."
"In conclusion, I did NOT see any evidence of wolf predation in any of the images provided," Niemeyer wrote.
Lingering Questions
FOR TRAVIS BLACK, what began as an investigation into how more than 40 cattle died in his home state last year blossomed into a controversy that eventually made its way into headlines around the world. At the heart of the investigation had been the concerns of a respected ranch family in Meeker, who felt an obligation to communicate with their neighbors in the region about the unsettling situation that had invaded their lives.
It is a situation that, even today, remains unresolved.
"It was Mr. Klinglesmith that first reached out to the media about this," Black told The Debrief. "And I understand where he was coming from. I'd probably have made the same decision if I'd been that producer."
However, those initial efforts to provide clear and reliable information to the public about the investigation also drew media attention, which eventually gave rise to misperceptions about the investigation that would further hamper efforts to get to the bottom of the deaths.
"That certainly caused the media to start inquiring," Black said. "It put CPW in a position where we had to put something out, right? To let them know, yes, something happened. We're investigating it."
Yet those investigations seemed to have only left people like Black and his coworkers with more questions than answers about what factors might have caused the bizarre deaths.
"I go back to the drum I keep beating," Black maintains. "We saw injuries consistent with wolf depredations."
"But never once did we
say
it was wolves."
Black says the headlines that played up the mysterious aspects of the deaths, characterizing them as "slayings" by some unidentified "creature" had likely only fed into the misperception that wolves, or perhaps some other animal, were to blame.
"It did make managing the situation difficult," Black said, noting that the media coverage and resulting rumor mill prompted CPW to hold a commission meeting on November 17, 2022, where Black attempted to update the public and "put to rest some of the rumors that were flying out there."
However, as the end of the three-month period allotted to producers like the Klinglesmith family to provide evidence of loss steadily approached, it became evident to all parties that a resolution was unlikely to be found before the deadline arrived.
"We coordinated with the landowner, and he agreed," Black told The Debrief. "In consultation with Klinglesmith, we agreed to close the investigation."
Throughout the duration of CPW's inquiry, Black says that there was no clear evidence of wolves uncovered during the 90-day investigation period. However, equally frustrating to investigators had been that in addition to the scant evidence of canine depredation, there had also been no clear evidence that any of the other potential causes CPW had explored were to blame.
"We couldn't say [definitively] that it was clostridium. We couldn't say for certain that it was dogs [or] other canines that harassed the cattle."
"There just wasn't enough evidence to support any of the above,"
Black said.
The question remains as to what the actual cause behind the deaths of so many cattle around Meeker last year had been, although several possibilities exist. Perhaps
some yet-to-be-determined pathogen
had been to blame, which might explain why tests for any of the suspected strains of clostridium turned up empty-handed. It also seems plausible — if not likely — that the
changes to the vaccination schedules
that occurred earlier in 2022 had been related to the deaths in some way.
Another alternative is
Brisket disease
, a condition that is recognized for affecting mostly high-altitude cattle populations like those in northwestern Colorado but can sometimes manifest in cattle dwelling as low as 3000 feet. Brisket disease was also confirmed in at least two of the incidents reported by the Klinglesmiths last year early in the investigation and perhaps should not be ruled out as having been a potential factor in more of the cattle deaths.
Still another possibility might involve
a form of toxin present in the environment
, which calves could have been exposed to either through ingestion of vegetation or other food sources or through contaminated water. Presently, although there is no evidence of contaminants in the environment known to have been detected by CPW investigators, examples of bovine deaths resulting from toxicity have occurred elsewhere in recent years. These include
cattle deaths in Ontario in 2007
that were later attributed to the consumption of
Senecio jacobaea,
a plant more commonly known as Tansy ragwort.
In the aftermath of the strange ordeal, there is at least one thing that seems very clear to Travis Black, although it offers little consolation in light of the mysterious incidents that pushed his community into the international spotlight last year.
"The only thing I
could
say," Black told The Debrief, "is that there was zero evidence of wolves."
Micah Hanks is the Editor-in-Chief and Co-Founder of The Debrief. He can be reached by email at micah@thedebrief.org. Follow his work at micahhanks.com and on Twitter: @MicahHanks.