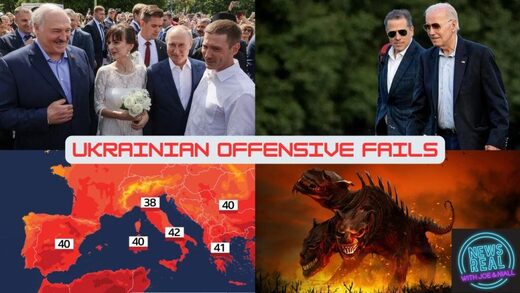 The NATO-backed Ukrainian 'counter-offensive' to break through Russian defensive lines in southern Ukraine (now claimed by Russia) is still - two months in - going nowhere fast. Last week the Ukrainians targeted the Kerch Bridge - again - ending the 'grain deal' and shutting down Ukrainian access to the Black Sea.
Putin, confident the offensive has been a complete failure, claims it has cost the lives of over 26,000 Ukrainian and foreign mercenaries. He is also 'exposing' Polish designs on moving into, and militarily occupying, western Ukraine, suggesting a new and more dangerous turn in the Great NATO-Russia War of 2022-2023.
Also on this
NewsReal
, Joe and Niall discuss the outrageous lies being passed off as 'weather news' by the media, which somehow manages to simultaneously cover up the REAL 'Earth changes' taking place all over the planet...
Running Time:
01:45:06
Download:
MP3
— 72.2 MB
This podcast is soon also available to view, share and download on
Rumble
, Odysee and
VK
.