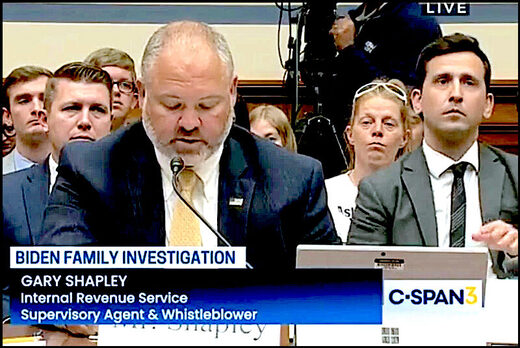 Two IRS whistleblowers, Gary Shapley, and Joseph Ziegler, testified before the House Oversight Committee on the government prosecutors' preferential treatment of Hunter Biden.
Rather than charging Hunter Biden with felonies for evading taxes and providing false statements to the feds, Joe Biden's corrupt DOJ gave him
a sweetheart deal.
Hunter Biden was hit with two misdemeanors related to unpaid taxes from 2017 and 2018.
Joe Biden's DOJ blocked two search warrants and multiple felony charges
against Hunter Biden, according to IRS whistleblower Gary Shapley. He told lawmakers:
"I am blowing the whistle because the Delaware U.S. Attorney's Office, Department of Justice Tax, and Department of Justice provided preferential treatment and unchecked conflicts of interest in an important and high-profile investigation of the President's son, Hunter Biden."
Shapley previously told lawmakers that
an Assistant US Attorney in Delaware working on Hunter's case REJECTED a search warrant for Joe Biden's Delaware home in 2020.
A separate search warrant for Hunter Biden's storage locker was also blocked by Joe Biden's henchmen.
On Wednesday Shapley said Assistant US Attorney Lesley Wolf blocked the search warrant at Joe Biden's Delaware residence.
"Assistant US attorney Lesley Wolf cited the optics of executing a search warrant at President Biden's residence as a deciding factor for not allowing it even though she agreed that probable cause existed."
Speaking of optics...
Machine gun-toting federal agents descended on Mar-a-Lago to raid Trump's Florida residence last summer
to seize documents lawfully stored at the estate.
About the Author:
Cristina Laila began writing for The Gateway Pundit in 2016 and she is now the Associate Editor.
Email Cristina Laila here, and read more of Cristina Laila's articles here.