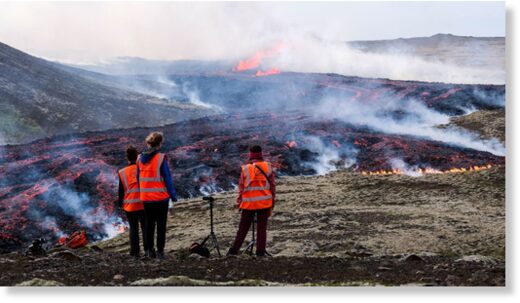 A volcano has erupted about 19 miles (30km) from Iceland's capital, Reykjavik, the country's meteorological office has said, marking the third time in two years that lava has gushed out in the area.
"The eruption is taking place in a small depression just north of Litli Hrútur, from which smoke is escaping in a north-westerly direction," the office said.
Local media footage showed a massive cloud of smoke rising from the ground as well as a substantial flow of lava.
The smoke could be seen from the road connecting the capital to the international airport, with cars pulled over and people taking pictures.
Thousands of small earthquakes had been recorded in the area in the week leading up to the eruption, signalling that the magma below the ground was moving and an eruption was imminent.
The Icelandic authorities advised against going to the site before they had assessed the situation.
The magma broke through the ground at about 16:40 GMT, just a few kilometres from two previous eruptions in the past two years.
The first was on 19 March 2021 in the Geldingadalur valley and lasted six months; the second occurred on 3 August 2022 in the Meradalir valley, lasting three weeks.
Prior to the 2021 eruption, the region had remained dormant for eight centuries, but volcanologists believe the new cycle of increased activity could last several years.
The effusive eruptions in the area so far have not been very dangerous, nor have they had any impact on air traffic.
The 2021 and 2022 eruptions attracted hundreds of thousands of visitors wanting to catch a rare glimpse of an active volcano.
Iceland has 33 volcanic systems currently considered active, the highest number in Europe. It has an eruption every five years on average.
The north Atlantic island straddles the mid-Atlantic ridge, a crack in the ocean floor separating the Eurasian and North American tectonic plates.
In April 2010, about 100,000 flights were cancelled, leaving more than 10 million travellers stranded, after the massive eruption of the Eyjafjallajökull volcano.
Other volcanoes, such as Askja in the uninhabited highlands of central Iceland, have recently shown signs of activity.
One of the country's most dangerous volcanoes is Katla, near the south coast. It last erupted in 1918, with an unusually long pause suggesting an imminent reawakening.
The 1783 eruption of the Laki volcanic fissure in the south of the island is considered by some experts to be the most devastating in Iceland's history, causing its biggest environmental and socioeconomic catastrophe.
Between 50 and 80% of Iceland's livestock was killed, leading to a famine that left a quarter of the country's population dead.
The meteorological impact of the eruption also had repercussions for several years, with some experts suggesting the impact may have played a part in triggering the French Revolution.
Agence France-Presse