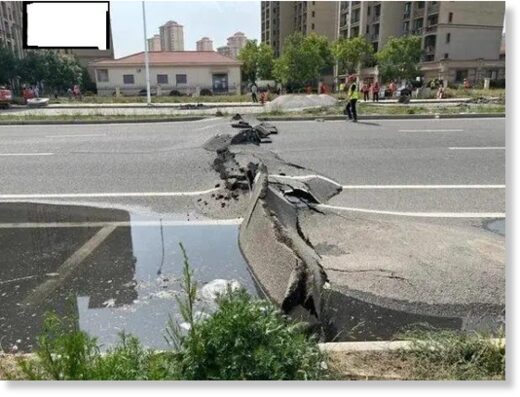 Giant cracks in a road have sparked chaos in China as thousands of residents are evacuated over fears that their teetering skyscrapers will come tumbling down.
Cracks as wide as a fist broke through the road surfaces near a residential complex in the city of Tianjin in northern China, causing panic on social media.
Some 3899 residents in at least three 25-floor buildings had been evacuated to nearby hotels as of Saturday, the district media said in a social media post.
One resident, Mr Li, said: "I didn't witness it personally, but I heard that around 6pm, some people on the street heard a loud 'bang' resembling an explosion, and the road just burst open."
Shocking footage shared online showed the tarmac surging upwards as huge cracks cut through it, or grass giving away with the earth split open.
Inside, other videos showed cracks slithering up the walls of what looked to be a basement, over the ceiling and back down the opposing wall.
News.com.au could not independently confirm the videos.