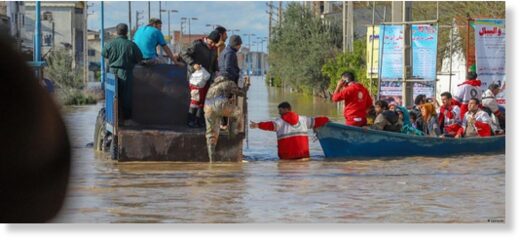 A period of severe weather has caused fatalities and damage to homes, infrastructure and livestock in various regions of Iran over the last few days, with floods reported in several provinces.
The Iranian Red Crescent has been actively assisting flood-affected communities in 13 provinces throughout the country, focusing on Isfahan, Tehran, Semnan, Zanjan, Qazvin, and East Azerbaijan.
The Ardestan district in Isfahan Province witnessed devastating floods that claimed the lives of at least four individuals. Additionally, 9 people sustained injuries, 2 were reported missing and at least 15 houses were destroyed due to the deluge.
In the city of Ahar, located in East Azerbaijan Province, one person died while two others were injured as a result of heavy rain and flash floods. The Iranian Red Crescent also reported floods had caused severe damage to homes and other infrastructure in Shahrud City in Semnan Province.
Rescue operations conducted by the Red Crescent were underway in Firuzkuh County, located in Tehran Province. Tasnim news agency reported damage to homes and the loss of livestock in the area. The agency also highlighted wind damage in Tehran city, leaving approximately 25 people injured.
In Markazi Province, Tasnim news agency reported livestock were killed in flash flooding in Saveh in Zarandieh County.
Additionally, one person tragically died due to a lightning strike in Arak.
The country experienced incidents of flooding in late May this year. Four people died after flash floods in Faruj and Shirvan counties in North Khorasan province on 28 May 2023. Around the same time, the Iranian Red Crescent said teams assisted around 800 people affected by flooding in Ardabil province. Flooding was also reported in West Azerbaijan Province.