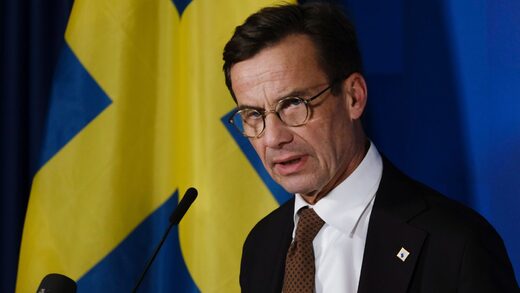 Swedish Prime Minister Ulf Kristersson
publicly denounced
his country's poor management of immigration this week in a landmark opinion piece for the Swedish daily newspaper
Aftonbladet
.
The article is just the latest sign of a political
volte face
in the Scandinavian country's infamous immigration outlook, but one that makes sense with respect to Kristersson's Moderate Party's electoral pact with the right-wing Sweden Democrats, in place since 2022.
In an article titled "Three Things are Required to Put Sweden Back Together,"
Kristersson lays out a radical reform to his nation's immigration policies outlining his wish to see Swedish migration policy become the strictest in Europe.
While not denouncing immigration entirely, Kristersson stresses the need to update integration policies and
clamp down on bogus asylum seekers clogging up the country. Kristersson also calls for new citizenship tests that prioritise knowledge of the Swedish language
among new arrivals, in the hope of reducing the number of refugees excluded from Swedish society.
"Let me be clear: large-scale immigration and poor integration simply do not work. That is why we are now changing the Swedish migration policy to the EU's strictest."
Despite earning a reputation as a "humanitarian superpower"
in the 2010s for generous asylum acceptance rates, Sweden has experienced a significant electoral backlash against immigration driven by a surge in crime and recent rioting
by Islamists.

Comment: Rather than being 'Islamists', it seems that at least some of the rioting is more due to the sheer number of male, unintegrated, disaffected, migrant youths.


Kristersson
promised
a "paradigm shift" in Sweden's handling of immigration upon entering power last year, vowing to end decades of liberal immigration policy spearheaded by the Social Democrats. Kristersson also
referenced
Danish asylum policies as a model for Sweden to follow in the coming decade, with Denmark praised for its strict management of asylum intake
.
Opinion polling has
shown
a public preference for
more stringent border control
as the Sweden Democrats
pile pressure
on Kristersson's government not to submit to new EU migration quotas.
On the European stage, Sweden has used its presidency of the EU Council to harden the bloc's resolve against illegal immigration as the government
warned
that
unemployment among certain immigration groups posed a major fiscal problem
to the country's finances.
The EU is considering weaponizing
trade treaties
with non-EU nations as well as using
visa arrangements
as leverage against illegal migration from third-party countries of origin.