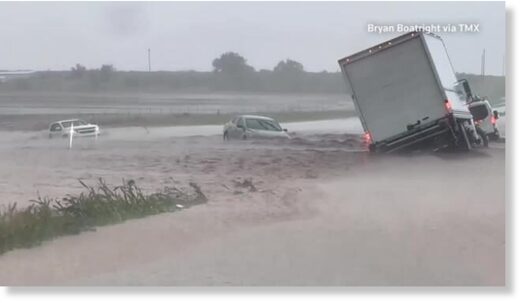 Rain has led to multiple roads in the Texas panhandle being flooded making them difficult to cross.
In Amarillo, Coulter Street was shut down between 45th and Hillside due to high water.
Additionally, Loop 335 westbound at Coulter was closed by the Texas Department of Transportation.
In Canyon, Country Club just north of the golf course clubhouse near Griffin, Paul Lindsey Park, and the Hunsley Hills crossing are all closed. The 11th St underpass is draining well but there is a lot of falling water and some standing water.
US 287 northbound between Quanah and Childress has reopened.
Water is covering the roadway on FM 2587 and FM 1412 in Deaf Smith County.
Other roadways that have been closed include:
The southbound I-27 exit ramp at McCormick (reopened at about 6:15 p.m.)
Southbound service road at Sundown Lane
US 60 in Carson County east and westbound from FM 2161 to County Rd K (reopened at about 9:15 a.m.)
FM 298 from FM 2373 to the Panhandle city limits (reopened at about 11:25 a.m.)
FM 2298 in Deaf Smith is closed
Many roads are covered in water. Drivers should use caution.
The Texas A&M Forest Service is assisting TxDOT with road closures in high-traffic areas, including putting out additional traffic cones and helping block impacted roads.