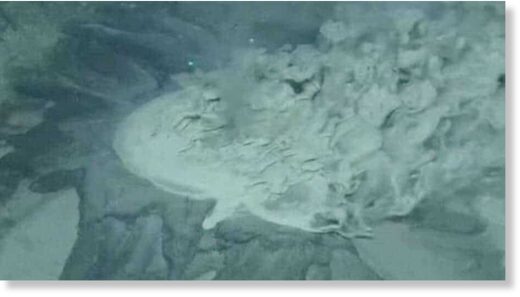 Scientists have discovered a submarine volcano near Norway's Bear Island, or Bjørnøya, in the Barents Sea, which continuously spews methane and mud.
The scientists also revealed that the volcano was located inside a giant crater, which probably formed following a large explosion at the end of the last ice age.
The volcano has been named Borealis Mud Volcano, and
it is only the second of its kind ever discovered in Norwegian waters.
What are submarine mud volcanoes?
An underwater geological structure formed after the continuous expulsion of fluids or gas such as methane from the seabed is known as a mud volcano.
"Exploring the seabed and discovering new methane [seeps] is like finding hidden treasures," said Stefan Buenz, a professor at The Arctic University of Norway (University of Tromsø) and co-leader of the Advancing Knowledge of Methane in the Arctic (AKMA) expedition that made the discovery.
"Every time we go down to the seabed, we get the feeling that we have just begun to understand the great and incredible diversity of such [seep] systems," Buenz said in a translated statement.
Details about Borealis Mud Volcano
The newly-found volcano is eight feet tall and measures 23 feet in diameter. The volcano sits inside a much larger crater, which is 300m wide and 25m deep, which likely formed after a massive methane eruption 18,000 years ago. It was spotted by researchers on May 7 using a remote-controlled rover. The rover captured footage which showed the volcano continuously spewing fluids and methane from inside the earth.
"Seeing an underwater eruption in real time reminds me how 'alive' our planet is," Space.com quoted Giuliana Panieri as saying, a professor in geology at The Arctic University of Norway and the leader of the expedition.
How many submarine mud volcanoes are present on Earth?
Researchers estimate that the number of mud volcanoes present on the seabed could be in the thousands globally. However, they are very difficult to spot and map. Earlier, the Håkon Mosby mud volcano was spotted by scientists in Norwegian waters.
According to the University of Bergen's Center for Geobiology, the volcano measures one kilometre in width and is located 1,250 metres below the water's surface on the seabed south of Svalbard.
Experts believe studies around underwater mud volcanoes could help humans assess previous environments and conditions on Earth, and could also help researchers explore conditions on other planets.