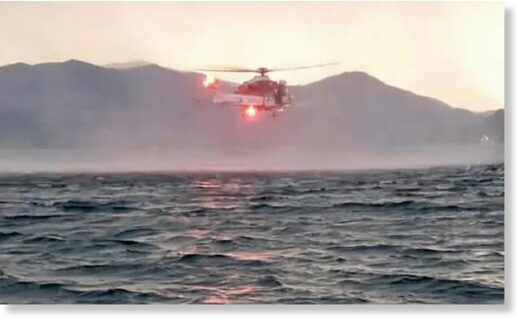 Italian firefighters say they have recovered four bodies from a northern Italian lake after a tourist boat capsized and sank in a sudden, violent storm.
The boat was reportedly carrying more than 20 people, including a group of foreign tourists celebrating a birthday, plus two crew members,
when a whirlwind overturned the vessel
on Sunday.
Firefighters said 19 passengers had been saved. Many reportedly managed to swim to shore, or were picked up by other boats after the boat overturned off Lisanza, at the southern end of Lake Maggiore.
The victims include a Russian citizen, an Israeli and two Italians.
The Lombardy region's president, Attilio Fontana, said the incident had been caused by a whirlwind. The boat was 16 metres (52ft) long and had been hired by tourists, he said on Facebook.
The vessel had been carrying 25 people, including 23 tourists and two crew, Italy's Varese News said.
A firefighters' video published by the Corriere della Sera showed the helicopter flying over choppy waters, where chairs and other debris could be seen floating.
The whirlwind was part of a storm system that hit the Lombardy region on Sunday evening, forcing delays at the Malpensa airport.
On Monday, Italian authorities said checks were under way into the boat's safety and capacity.
Lake Maggiore, which lies on the south side of the Alps, is the second-largest lake in Italy and a popular tourist destination.
Italy has suffered a series of recent disasters linked to extreme weather events. On 17 May, 15 people died and thousands were left homeless after 21 rivers burst their banks after heavy storms across the country triggering flooding and landslides, which in turn damaged or closed off 500 roads. Last November's landslide on the Gulf of Naples island of Ischia killed another 12 people.
Agence France-Presse contributed to this report.