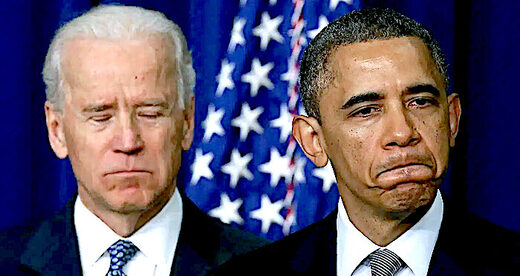 The Biden family is getting hit by an unlikely source as a former official in the Obama administration has come forward to allege that
then-Vice President Joe Biden was involved in a "kickback scheme" with his son Hunter Biden's overseas business dealings.
Mike McCormick, who served as a stenographer for 15 years in the White House said that
the FBI has been ignoring him
even though he is willing to testify under oath before the federal grand jury investigating Biden's son.
He said:
"In February, I went to the FBI and filed one of their tips on their website. If you do that, and you're lying to them, you go to jail. I'm not lying. I'm telling the truth, and I'm not going to jail. Joe Biden is a criminal. He was conducting malfeasance in office to enrich his family. Jake Sullivan is a conspirator in that, and there's more... Obama officials involved in it, I believe."
1945.com
reported
:
"McCormick, who worked with Biden from 2011 to 2017, detailed a key dialogue involving the vice president, aide Jake Sullivan and the press on Air Force Two before a trip to Kyiv, Ukraine, on April 21, 2014. Sullivan, who is the current national security adviser, outlined in a White House transcript Biden's priorities for his trip to the country, which included U.S. investment in the Ukrainian energy sector. Months later, and well after the trip, Congress allocated $50 million to Ukraine's energy market.

"I'm sitting back there with a tape recorder. Jake Sullivan comes back and somebody asks about fracking. His answer is, well, we're bringing a lot of American assistance over for fracking. Burisma was the direct beneficiary of that fracking, and that's what I recorded, and that's in a White House transcript.

"In the transcript, you don't know who Jake Sullivan is. It's a senior administration official. I'm the witness that says Jake Sullivan is the guy who said it and he should be investigated because at the time Hunter Biden was on the board of Burisma and Joe Biden is bringing American taxpayer money to enrich that company and himself and his family."
Hunter Biden joined Burisma three days before Biden's trip to Ukraine and McCormick alleged that the timeline showed Biden sending American money overseas to "enrich" himself and his family.
The former stenographer claims that he has
information that directly implicates President Biden and other officials in what he said was an influence-peddling scheme.
McCormick said:
"If I went in there, I would tell them to have Barack Obama called in as a witness because he's part of the conspiracy. He's an ex-president. He has to answer who was in charge of this, putting Joe Biden into this role. Did Barack Obama know about it?"
Last week, House Judiciary Committee Chairman Jim Jordan said some FBI whistleblowers may be willing to
"publicly" testify
about alleged improper business dealings involving President Biden and several members of his family.
A number of GOP lawmakers revealed damning evidence allegedly implicating at least nine members of President Joe Biden's family raked in
as much as $10 million
from sources in Romania and China while Biden was serving as Barack Obama's VP.
Republican lawmakers claimed that
around 20 companies linked
to Biden family members were established after Joe Biden assumed the vice presidency in 2009. The companies allegedly formed a complex network of intermediaries and conduits.
House Oversight Chairman James Comer said the committee has obtained evidence revealing
payments amounting to
$1 million
from Romania to the Biden family
during Joe Biden's tenure as vice president while he was involved in matters pertaining to Romania.
Additionally, Comer asserted that the committee has uncovered
millions of dollars sent from several Chinese companies to the Bidens, utilizing multiple banks in what appears to be an intricate network constructed to mask the transfers.