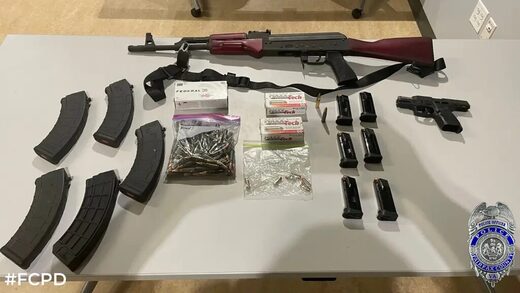 A trespasser carrying an AK-47, handgun and loads of ammo was arrested at a preschool in Virginia, as he claimed he was headed to the nearby
CIA headquarters
.
Eric Sandow, 32, of Florida, was taken into custody on Tuesday at the Dolley Madison preschool in McLean after he was caught sneaking onto school grounds, police said.
Officials recovered
an AK-47 assault rifle
with five extra magazines, a handgun with six extra magazines, as well as several boxes and bags of ammo from Sandow's vehicle.
Police said Sandow told them he was actually headed to the CIA's headquarters, in Langley, less than 2 miles away from the school.
The preschool said in a statement that Sandow asked to come into the school to use the restroom, which was denied.
"At no point did he gain physical entrance to the school building," officials said. "We are grateful for the swift response of the Fairfax County Police Department."
Sandow was charged with felony possession of a firearm on school property.
He is being held at the Fairfax County's Adult Detention Center without bond.
The Fairfax County Police Department and CIA did not immediately respond to The Post's request for comment.
Sandow's arrest comes a day before the first anniversary of
the Uvalde massacre
, where 19 Robb Elementary School students and two teachers were shot and killed in the Texas town.
Since then, the US has seen about 600 more mass shootings, according to the Gun Violence Archive, including the Nashville shooting that claimed the lives of three 9-year-olds and three staffers at the Covenant School.
Sandow's arrest also took place about nine miles from the White House, which saw its own major incident Monday night when
alleged neo-Nazi Sai Varsith Kandula
, 19, rammed a U-Haul truck into security barriers.
After barreling the vehicle into the barriers, he reportedly exited the front seat and started waving a red, swastika-emblazoned flag before he was taken into custody.
Kandula allegedly told FBI investigators he wanted to take control of the government and kill the president, ABC reported.
He has since been charged with threatening to kill, kidnap or inflict harm on a president, vice president or family member, as well as assault with a dangerous weapon, reckless operation of a motor vehicle, trespassing and destruction of federal property, US Park Police said.