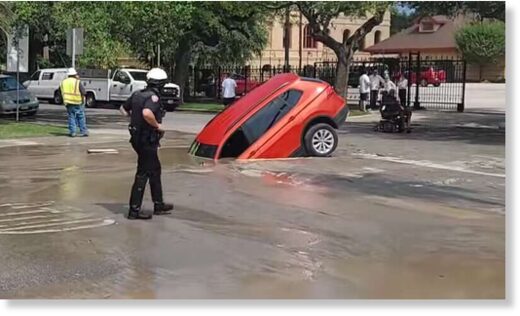 A man narrowly escaped from his car window after
driving into a sinkhole
that suddenly formed in a Galveston street on Tuesday, May 23. John King thought he was going over a large puddle before
submerging his vehicle into the sinkhole
.
Due to a water pipe failure, water was released into the area and formed a sinkhole near the intersection of 22nd Street and Avenue M, according to the
Houston Chronicle
. City officials closed off the area and municipal workers isolated the water main to prevent further damage to nearby homes and businesses.
However, before officials began their investigation, King drove into it while running to the market, according to
KHOU 11.
The driver told the TV station he wouldn't have normally gone through that street but was trying to avoid construction the next street over.
King said his car was overcome with water and escaped by crawling out of the window. He told KHOU 11 that his immediate reaction was that "this isn't right." He said he's working with his insurance to get his car fixed.
Once the vehicle was removed from the pit, crews pumped the water out to allow for an investigation. Jody Harvey posted a video of the SUV submerged in the
sinkhole on Facebook
on Tuesday. It has received over 87,000 views and about 827 shares as of Thursday, May 25.