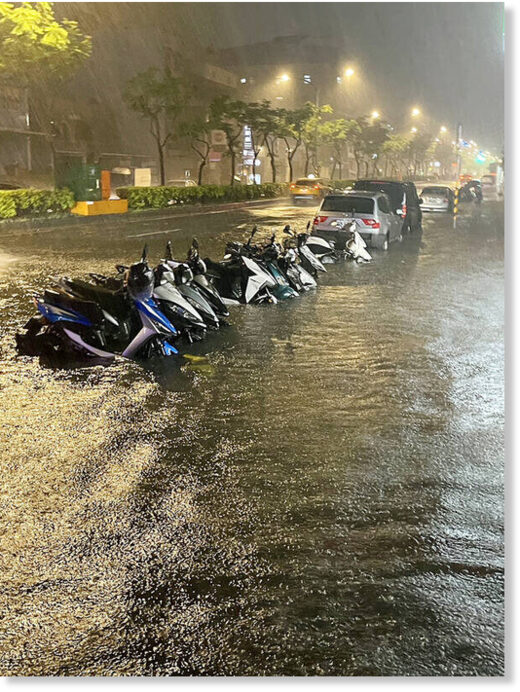 Torrential rains triggered flooding in many parts of Taiwan on Monday night, but no serious injuries were reported.
Flooding was reported in 16 locations in Tayouan as of midnight, after a large amount of rain fell in a relatively short duration, the Taoyuan Department of Water Resources said.
The situation in Lujhu District (蘆竹) was the most severe, with floodwaters reaching knee-high by 9:30pm, the department said.
The Taoyuan City Government issued a level 3 flood alert at 10:30pm, but lowered it at 2am yesterday after the rain weakened, it said.
Yangmei District (楊梅) on Monday received 60mm of rain in an hour, while five other districts received 40mm of rain, the department said.
Pictures circulating on social media showed motorcycles on Nanshan Road (南山路) in Lujhu trapped in floodwaters that covered their tires.
Footage showed a whirlpool occurring on a roadside where city workers were pumping out water.
Flooding was also reported in multiple locations in Hsinchu County.
Many underpasses were closed off due to flooding to prevent residents from using them, the Hsinchu County Fire Department said.
The rain brought down trees in the greater Taipei area, damaging three vehicles and hitting a motorcyclist.
The motorist, a woman in her 30s, sustained non-life-threatening injuries, police said.
Bricks fell off the wall of a residential building in New Taipei City's Tucheng District (土城) at about 11:15pm, the New Taipei City Fire Department said, adding that no one was hurt.
Thunderstorms were reported in Changhua County early yesterday morning.
A lightning strike sparked a fire at a power transformer, cutting electricity to nearly 600 households, the Changhua County Fire Department said, adding that power was restored by 2:59am and no one was injured in the fire.
The weather front that caused the heavy rains moved south away from Taiwan yesterday morning and torrential rain warnings were lifted across Taiwan at 9:35am, the Central Weather Bureau said.