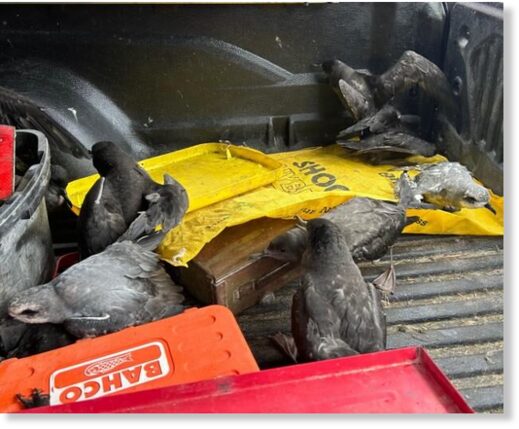 Freezing gale force winds are believed to be behind the downing of hundreds of tītī (muttonbirds) in Central Otago, northern Southland and the Lakes District last night.
It is believed the birds were migrating south to the Tītī/Muttonbird Islands for breeding season, but were blown off course and exhausted by the wintry blast.
Garston business owner Robert Durling said he was alerted to the plight of the birds when he heard a thump on his roof, about 9pm last night.
"We just thought it was a possum or a big clump of snow.
"Then we heard another one, so I went out to have a look, but I couldn't see anything.
"Then all of a sudden, I saw this odd-looking bird on the lawn, and then I saw two or three of them, and then another one crashed into the tree beside us, and they kept hitting the roof for ages."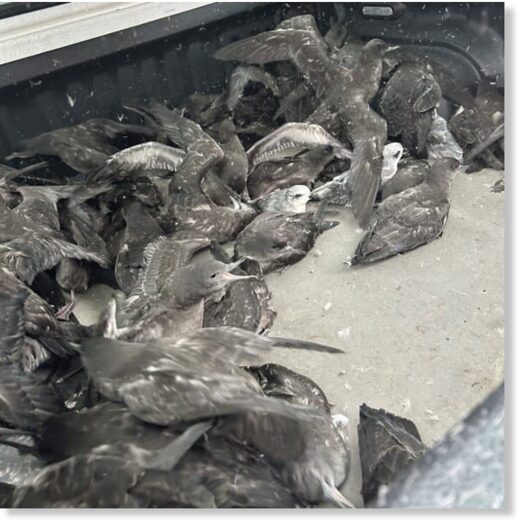 He and his wife Kylie Sutton started collecting the birds and putting them in a sheltered place.
The next morning, Kylie went to work in Garston and phoned him to say there were lots more of the birds in the car park there.
"I went up and we started to find quite a few around the place.
"We were finding them behind split logs, wheelie bins, against buildings and under stairs.
"But you could see from the tracks in the snow that a lot of the others had wandered off to burrow into the ground somewhere — that's what they do.
"Unfortuntately, I think their fate is probably sealed. They won't survive."
He said he and a group of friends spent most of this morning collecting up more than 50 muttonbirds in the area.
There have been reports of others being found in Kingston, Queenstown and Central Otago.
He said Department of Conservation rangers came to help rescue the birds and were now taking them to an area near Invercargill where they could launch again and continue their journey south.
"They can't just take off from the ground. They've got to be able to run into a head wind on a high place — a bit like albatrosses do.
"Fingers crossed, they survive."
An Avian Rescue Otago spokeswoman said if anyone found a muttonbird, they could take it to the Queenstown Kiwi Birdlife Park or contact Avian Rescue Otago.
Source: Otago Daily Times