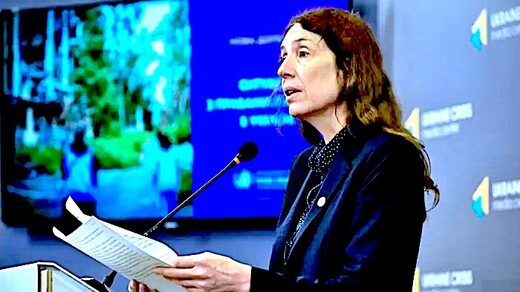 The United Nations has expressed deep concern over what it says were summary executions of prisoners of war (POWs) by both Russian and Ukrainian forces on the battlefield.
The head of the
UN Human Rights Monitoring Mission in Ukraine, Matilda Bogner
, said at a press conference in Kyiv on March 24 that her organization had recently recorded killings by both sides.
"We are deeply concerned about...summary execution of up to 25 Russian prisoners of war and persons [out of action because of injury] by the Ukrainian armed forces, which we have documented. This was often perpetrated immediately upon capture on the battlefield. While we are aware of ongoing investigations by Ukraine authorities into five cases involving 22 victims, we are not aware of any prosecution of the perpetrators."
Almost half of the 229 Russian prisoners of war interviewed by members of the mission claimed torture or ill-treatment,
according to Bogner.
Bogner also expressed deep concern over the
alleged executions of 15 Ukrainian prisoners
by Russian armed forces after their capture. She said the
Wagner mercenary group was responsible for 11 of those killings.
The Ukrainian Foreign Ministry reacted to the report by thanking the UN mission for documenting violations of international law by Russia in the course of its aggression against Ukraine.
"At the same time, we consider it unacceptable to place responsibility on the victim of aggression. According to the UN Charter, Ukraine has the right to self-defense," the ministry said.
Kyiv expects that the UN mission "will avoid any steps that could be interpreted as equating the victim and the aggressor," the ministry said.
Dmytro Lubinets, the Ukrainian parliament's commissioner for human rights, said Ukraine adhered to the Geneva Conventions, the international law regarding the treatment of prisoners of war.