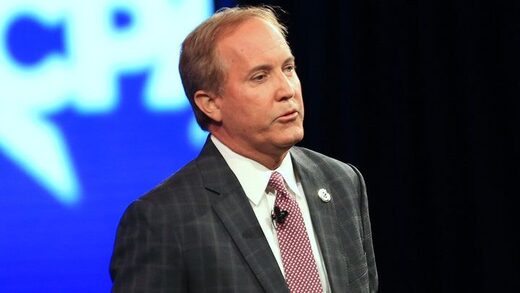 Texas Attorney General Ken Paxton filed a lawsuit against President Joe Biden and his administration for allegedly breaking the Constitution in order to swiftly pass a trillion dollar spending package.
The lawsuit, filed Wednesday, claims that
Biden unlawfully signed the Democrats' $1.7 trillion omnibus package into law in December because it was not legally passed in the House.
Only 201 members were present when the Consolidated Appropriations Act of 2023 was voted on by the House of Representatives in December 2022, and with half the members absent, the required quorum was not met, Paxton's lawsuit argues.
The Constitution requires that a quorum of members of the House of Representatives be present for the lower chamber of Congress to conduct any business, as stated in the lawsuit.
"Nowhere does the U.S. Constitution authorize the House to pass trillion-dollar bills when more than half the members are in their homes, vacationing, or are anywhere physically other than the United States Capitol Building,"
said Attorney General Paxton in a press release.
"Our Founders would be turning over in their graves if they could see how former Speaker Nancy Pelosi used proxy voting to upend our constitutional system."
The House passed a revised version of the bill with 225 yea, 201 nay votes, and 1 present, however, the votes of those physically on the floor were only 88 yea and 113 nay. Several Republicans voted by proxy on the measure as well, along with most Democrats.
"Because the omnibus spending bill wasn't passed when a quorum of the House was present, it was never lawfully enacted, it's unconstitutional, and the federal government should be enjoined from implementing it,"
the press release stated.
"That is especially true regarding the 1.7 trillion-dollar bill that should have never been 'passed.' Joe Biden, who's been in Washington for half a century, should have known he couldn't legally sign it either. But he never seems to let the law get in the way of him doing whatever he wants to do."
Pelosi initially implemented
proxy voting
as a way to avoid spreading COVID-19 in 2020, but continued to allow members to vote without being present on the floor through December. The GOP ended the practice after it took control of the chamber in January.
Aubrie Spady is a Freelance Production Assistant for Fox News Digital.