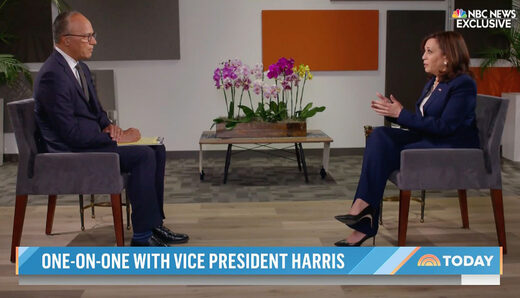 Vice President Kamala Harris steered clear of most one-on-one interviews for nearly a year after a "disastrous"
appearance
with NBC News' Lester Holt in which she bumbled through an answer about the border crisis.
In the widely mocked June 2021 interview, Holt pressed Harris to explain why she had yet to visit the US-Mexico frontier three months into her appointment as President Biden's "border czar."
"We've been to the border," Harris insisted. "So this whole thing about the border — we've been to the border."
"You haven't been to the border," Holt responded.
"And I haven't been to Europe," Harris shot back with an awkward laugh to punctuate the apparent attempt at humor. "And I mean, I don't understand the point that you're making. I'm not discounting the importance of the border."
Harris' June 2021 interview with NBC News' Lester Holt sparked a backlash after she struggled to articulate the Biden administration's border security strategy.
The
New York Times
reported
Monday that the backlash to Harris' comments was so fierce that the veep "all but went into a bunker for about a year, avoiding many interviews out of what aides said was a fear of making mistakes and disappointing" President Biden — who reportedly referred to Harris as a
"work in progress"
early in his presidency.
Soon after the Holt interview, Harris' public standing was further damaged by the first of several
reports
alleging a toxic work environment at her office, which has seen frequent staff turnover.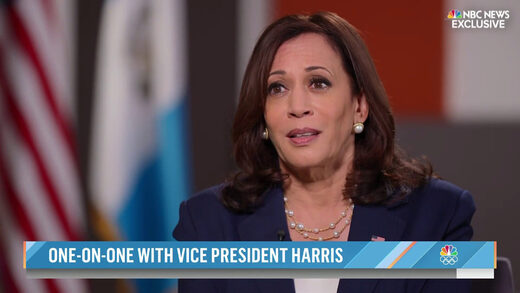 Harris' notable TV appearances since the Holt interview have included a September 2021 hit on
The View
that was forced to go
remote
when two of the hosts received false positive tests for COVID-19 and a
sitdown
with Charlamagne Tha God that December in which the VP scolded the rapper after he asked whether Joe Biden or Sen. Joe Manchin was the real president.
In September of last year — 18 months into her tenure as America's border czar — Harris again came under fire after insisting in an
interview
with NBC's
Meet the Press
that the southern border was "secure," despite a record number of migrant arrests.
"The border is secure, but we also have a broken immigration system, in particular, over the last four years before we came in, and it needs to be fixed," Harris told moderator Chuck Todd.
When the NBC host pressed her on the issue, Harris delivered an incoherent response.
"We have a secure border in that that is a priority for any nation, including ours and our administration," Harris said. "But there are still a lot of problems that we are trying to fix given the deterioration that happened over the last four years."
Harris made history as the first woman, the first African American and the first Asian American to ever serve as a vice president, but her job performance so far has left many in the Democratic camp grumbling, with one prominent party fundraiser telling the
Times
, "I can't think of one thing she's done."