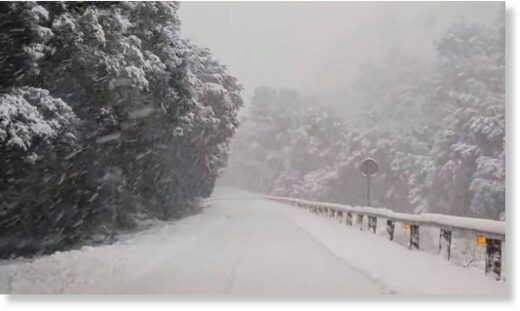 Snow is forecast to fall for most of the day and overnight
10 centimetres of snow fell on Saturday night in the Serra de Tramuntana and at 9 a.m. it was still snowing with a number of roads closed.
According to the Aemet met. office it could continue to snow throughout the day with the
snow line falling below 600 metres
-
last Saturday it snowed in Palma at sea level.
The 112 emergency service is discouraging drivers from travelling to the area to avoid traffic jams and incidents.
Soller resident Alberto Darder Rossell, a meteorology enthusiast, set out early on the road from Soller to Lluc to witness the scene.
"It doesn't look like Mallorca", he said.
The Roads Department of the Council of Mallorca has reported that, due to the large accumulation of snow, several stretches have been closed to traffic, including the Ma-10 (the area from Lluc to the Mirador de Ses Barques; from Pollensa to Lluc and from Caimari to Lluc) and the Ma-2141 (Sa Calobra).
The met. office has forecast a drop in snow levels to 600 metres in the Serra de Tramuntana where up to 10 centimetres of snow could accumulate in less than 24 hours.
An amber warning for snow has been activated from 6 am on Saturday morning until 10 am on Sunday.
Lower down, rain and isolated thunderstorms are expected, which could be accompanied by hail.