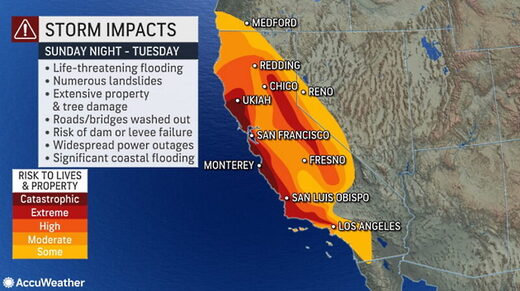 AccuWeather meteorologists warn that a moisture-packed system set to arrive early next week could be the strongest in a Pacific storm train that has been rolling since the end of 2022.
Another atmospheric river will bring heavy rain and mountain snow to California and neighboring states into early next week.
California has faced a
frenzy of storms
that have unleashed deadly impacts since the end of 2022, and AccuWeather meteorologists say the onslaught is far from over. One storm in the bunch is poised to aim a firehose of moisture at the Golden State early in the new week, potentially leading to "catastrophic" flooding, in addition to widespread mudslides and road closures, forecasters say.
"The impacts from this storm cannot be understated," AccuWeather Meteorologist Joe Bauer said.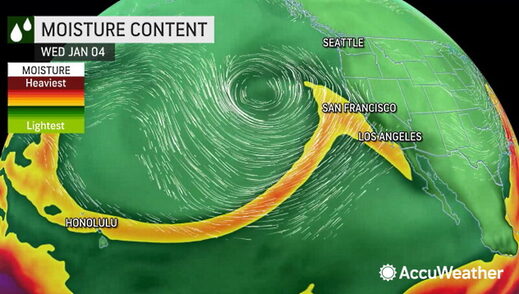 As a standalone storm, the amount of rain and snow expected would be enough to raise flooding concerns and snarl travel in the mountains. AccuWeather experts say what sets this storm apart and could catapult it to extreme and historic levels is the preceding conditions.
This storm will be intensely tapping into a substantial
atmospheric river
, arriving just days after previous storms brought heavy rainfall and created significant flooding, increasing the impacts and risks that can occur given the already saturated ground, according to AccuWeather Chief Meteorologist Jon Porter.
In the wake of yet another system
bringing rain and mountain snow to Northern and Central California into Sunday
, the main push of moisture associated with the next Pacific storm is expected to arrive late Sunday night, with waves of moisture continuing to push onshore through the first half of the week.
"Flooding from Northern to Central California is expected to be widespread, even catastrophic in some locations around the coastal mountains and the northern and central Sierra. Given saturated ground, much of this water to runoff into rivers where more than a dozen monitored river locations are forecast to be above flood stage, even in the Central Valley," Bauer said.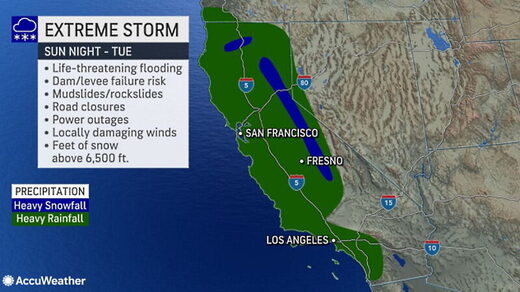 AccuWeather experts say an additional 4-8 inches of rain can fall on the coastal ranges, as well as the foothills of the Sierra Nevada, with an AccuWeather Local StormMax™ of 14 inches. In San Francisco, 2-4 inches of rain is expected.
Since Dec. 26, 2022, the downtown area has picked up more than 11 inches of rainfall -- a staggering 628% higher than the normal precipitation for that time frame of 1.76 inches
. During this stretch, the city recorded its wettest 10-day period since the Civil War era.
Heavy rainfall will return to portions of Southern California Monday night and Tuesday, with 1-2 inches of rain expected in the Los Angeles area with locally higher amounts.
Motorists are strongly urged not to drive through flooded roads as the water may be deeper than it appears, and in some cases, the road surface may have been completely washed away beneath floodwaters, AccuWeather forecasters say. Traveling along winding, secondary roads in hilly areas will likely be hazardous due to flash flooding and debris flows.
As the ground remains saturated and gusty winds accompany the storm, power outages and fallen trees may be more widespread compared to recent events.
Airline travelers are likely to face another round of delays and possible cancellations at the major hubs of San Francisco and Los Angeles. Even airports that are not directly impacted by this storm can face a backlog of flights as crews and aircraft are displaced.
Surging water levels on area streams and rivers are likely to lead to flooding in unprotected areas. Rising waters will test levee systems and dam spillway capabilities. Residents throughout the region are urged to have an emergency kit ready and know more than one way out of their community in the event of an evacuation.
In addition to the life-threatening rain impacts, the storm will unleash another round of heavy snow that will be measured with yardsticks and lead to snarled travel.
"Initially, snow levels in the Sierra will be rather high, likely above 7,000 feet. However, as colder air works its way across the state, snow levels could fall to 5,000 feet on Tuesday," AccuWeather Senior Meteorologist Dan Pydynowski said, adding that snow could work its way southward into some of the Southern California mountains as well.
"The snow, while making travel very difficult, will be beneficial for ski resorts and building the snowpack in the mountains, which will lead to increased water supplies later this year," Pydynowski added.
AccuWeather's team of long-range experts say the pattern of prolific storms slamming the West Coast, which has already placed a significant dent in the drought, is likely to remain in place through the middle of January.
Around that time frame, the storms will tend to swing to the north and farther inland. When that happens, precipitation amounts will tend to dwindle in California but can ramp up more so over the interior West, and that could impact the Colorado River basin with more significant precipitation events.
"Storms are likely to resume during February and March, just probably not to the magnitude as is occurring now and what is likely to continue through mid-January," AccuWeather Lead Long-Range Meteorologist Paul Pastelok said, adding that Northern and Central California would be out of the drought situation by the summer months.