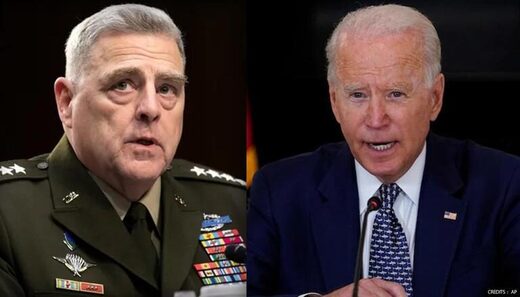 The D.C. swamp continues to protect its own.
While speaking to reporters from the White House, Joe Biden was asked about the explosive new book that alleges that General Mark Milley, chairman of the Joint Chiefs of Staff,
held secret meetings behind Donald Trump's back and even secretly told leaders not to take military strike or nuclear orders from Trump days after the Jan. 6 incident at the U.S. Capitol.
Biden made it clear that he's standing by Milley and did not make any mention of him resigning.
"Sir, did General Milley do the right thing, sir? Did General Milley do the right thing?" a reporter asked.
Biden replied: "I have great confidence in General Milley."
WATCH:
Two days after the January 6 incident at the Capitol, Milley took an extraordinary step. He took secret action to talk to military leaders and told them not to take military strike or nuclear orders from Trump, CNN
reported
.
Milley "was certain that Trump had gone into a serious mental decline in the aftermath of the election, with Trump now all but manic, screaming at officials and constructing his own alternate reality about endless election conspiracies," Woodward and Costa said in the book "Peril."
"You never know what a president's trigger point is," Milley said to his senior staff, worried that Trump could "
go rogue
," the book said.
Milley then called a meeting in secret on January 8 to examine the process for military action which included the
launching of nuclear weapons
.
He told the military officials in charge of the National Military Command Center that they were
not to take orders from anyone unless he was involved
.
During an interview Tuesday night on Newsmax, Trump tore into Milley and even spoke about a report that alleged Milley contacted his Chinese counterpart to inform him that if Trump ordered an attack, he would warn China in advance.
"General Li, I want to assure you that the American government is stable and everything is going to be okay. We are not going to attack or conduct any kinetic operations against you," Milley allegedly said. "General Li, you and I have known each other for now five years. If we're going to attack, I'm going to call you ahead of time. It's not going to be a surprise."
Speaking on Newsmax, Trump was asked about extracts from a new book, "
Peril
," by veteran reporters Bob Woodward and Robert Costa.
"If it is actually true, which is hard to believe that he would have called China and done these things and was willing to advise them of an attack or in advance of an attack... that's treason," said Trump.
Trump released a scathing statement earlier on Tuesday:
Trump responded to the news in a statement, writing, "If the story of 'Dumba**' General Mark Milley, the same failed leader who engineered the worst withdrawal from a country, Afghanistan, in U.S. history, leaving behind many dead and wounded soldiers, many American citizens, and $85 Billion worth of the newest and most sophisticated military equipment in the world, and our Country's reputation, is true, then I assume he would be tried for TREASON in that he would have been dealing with his Chinese counterpart behind the President's back and telling China that he would be giving them notification 'of an attack.'
"
"Can't do that!" Trump continued.
"The good news is that the story is Fake News concocted by a weak and ineffective General together with two authors who I refused to give an interview to because they write fiction, not fact. Actions should be taken immediately against Milley, and better generals in our Military, of which we have many, should get involved so that another Afghanistan disaster never happens again. Remember, I was the one who took out 100% of the ISIS Caliphate. Milley said it couldn't be done!"
"For the record, I never even thought of attacking China — and China knows that," Trump concluded. "The people that fabricated the story are sick and demented, and the people who print it are just as bad.
In fact, I'm the only President in decades who didn't get the U.S. into a war — a well-known fact that is seldom reported."