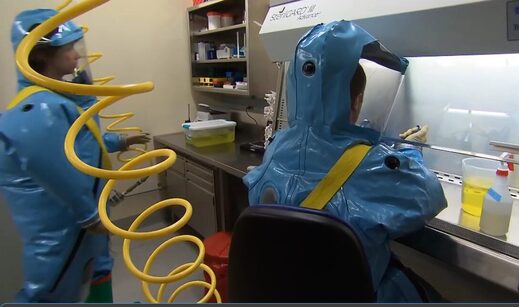 The answer is likely yes -- and it's something Justin Trudeau and other Canadian politicians are desperately trying to hide.
Over the summer Justin Trudeau's Liberal administration made
extreme moves
to try to
block the release
of a set of unredacted documents to members of the Canadian parliament.
Those documents contain, among other things, information about why two Chinese-national senior scientists at the National Microbiology Laboratory (NML) facility in Winnipeg, Manitoba, together with several of their Chinese-national students, were physically removed in
early July 2019
and the two senior scientists were
fired in January 2021
.
The students and staff reportedly were dismissed
because of
national-security concerns
. Their security clearances were revoked in July 2019, they were not allowed to return to the lab and are being investigated by the RCMP.
Most of the scrutiny is on one of those two senior NML scientists, Xianggou Qiu [pronounced 'choo']. She and her husband Keding Cheng were the duo fired by the NML in January 2021.
But when Trudeau called the election in mid-August, that took the heat off him and his party with respect to the Qiu-NML scandal: media focused instead on the frenetic campaigning.
And there's been almost complete silence, on the part of Trudeau and the Liberals and all the other federal political parties, since then about this critically important issue .
Thanks to information from a source with knowledge of some of the innermost workings of the NML while Qiu was there -- who approached me with key information in exchange for anonymity -- I have been able to put together a reasonably clear picture of why all the political parties are keeping the lid on this during the election.
It seems likely that valuable, made-in-Canada, vaccine technology was illicitly transferred to China by some of the staff at the NML, in plain sight. The NML is part of the Public Health Agency of Canada (PHAC) - the branch of the federal government that among other things also oversees the country's Covid response.
This made-in-Canada vaccine technology, in turn, has directly contributed to
a Chinese company called CanSino Biologics Inc. making hundreds of millions of dollars in profit from the sale of a Covid vaccine based on that technology.
This big haul likely is being shared with CanSino's partners, the Chinese government and military.
The quiet financial and tech transfer to China has been happening for decades, under administrations of various political stripes.
One only has to read the
1997 Sidewinder report
to
realize that
.
There have been
waves
of dismay in the intervening years regarding the increasing cadence of handing over to the Chinese of our
intellectual property
and other valuable
resources
.
Public outcry has been largely curbed, however - and this is helped by influential individuals. One recent example is
this July 14, 2021
,
Globe and Mail
article by Christopher Parsons of the University of Toronto's Citizen Lab (which is funded in part by the
infamous
Ford Foundation and George Soros's Open Society Institute
). In his opinion piece, Parsons argues that security-risk assessments of foreign scientists who receive funding from the Canadian government is a bad idea because such assessment would "chill research and scholarly training, accentuate anti-immigrant biases and may amplify national security problems."
Here is a
ten-point summary of the evidence for the deliberate but surreptitious transfer of key Canadian vaccine tech to China
. I got most of this information from my source, and I elaborate on it all later in the article. It's largely circumstantial but still makes a clear case:
Xianggou Qiu was involved in several streams of research at the NML in Winnipeg. (The building is the country's only 'BSL-4' facility; it's designed to safely contain and study dangerous pathogens.) One of those streams was the development of a single-dose Ebola vaccine based on a type of common-cold virus called the adenovirus. To create their vaccine -- dubbed Ad5 (for adenovirus serotype 5)-EBOV or Ad5-ZEBOV -- NML scientists manipulated Ad5 to include the gene for the Ebola virus's spike protein. The research was done from about 2006 to 2015 -- yet always was very low-profile, and never brought to fruition by performing clinical trials and then commercializing the vaccine;
Between 2016 and 2018 there were four scientific journal articles published on refining and testing Ad5-EBOV. Qiu was a co-author on the first of these papers -- and all four papers had co-authors from CanSino and/or military- and government-affiliated institutions in China;
The other made-at-the-NML experimental Ebola therapeutic was a monoclonal antibody cocktail called ZMab or ZMapp. It was developed by Qiu and her boss Gary Kobinger, to great fanfare - yet was ineffective against Ebola. My source believes this project functioned as a convenient sort of cover for, and diversion from, the covert transfer of the Ad5-EBOV vaccine to China;
Qiu took extended trips to China every year starting in 2010 and possibly earlier. She provided little information to others at the NML about what she was doing on those trips. She only made general/vague statements about visiting family and doing research while she was in China;
Qiu had many students and other scientists working with her. Some of Qiu's students had extensive and ongoing research relationships with the Chinese military and CanSino;
Qiu is listed as co-inventor on two Chinese patents registered in 2018 and 2019. All relate in some way to her work at the NML - yet the NML is not even mentioned in either patent;
In December 2014, China's Academy of Military Medical Sciences together with CanSino -- a Chinese startup company that had no products on the market -- announced that the military lab had discovered an Ebola vaccine and that they were starting clinical trials on it. That vaccine is identical to the one Qiu and others at the NML worked on. The trials took place in China in 2014-2015, and it was approved by the Chinese FDA in 2017;
A December 2, 2020, investigative report by Sam Cooper at Global TV shows that CanSino's two founders and top executives, Xeufeng Yu and Tao Zhu, were part of China's 'Thousand Talents' plan. This program focuses on actively transferring to China R&D and intellectual property from countries like Canada, the US and Australia. These two execs were high-ups in vaccine production at Sanofi-Pasteur in Canada before they formed CanSino in 2009;
In 2020, CanSino developed a Covid vaccine extremely fast, again using the Ad5 backbone, this time including the gene for the novel coronavirus's spike protein instead of the Ebola virus spike protein. That jab is reaping high profits for CanSino (and likely also its partners in the Chinese government and military);
Kobinger was a close research collaborator with Qiu and also was her supervisor at the NML. Kobinger left the NML in 2016 and became a professor at Laval University in Quebec. In 2020 he also was a member of the Canadian Covid-19 Vaccine Task Force. In June 2021 Kobinger was appointed director of the Galveston National Laboratory, at the University of Texas in Houston.
It's also worth mentioning -- even if it may appear to most readers to be peripheral to this story -- that an NML project to develop another type of Ebola vaccine, VSV- ZEBOV, was more successful than Ad5-EBOV. Judie Alimonti was the head of that project and successfully brought VSV-ZEBOV into clinical use: it was chosen over many others to be used on an emergency basis in Africa in
2014
. However, Alimonti was given virtually no credit for this: Qiu and Kobinger were credited instead. And the vaccine was subsequently sold to Merck (which renamed it
Ervebo
).
A book published on August 14 --
one day
before Trudeau announced the start of the current federal election campaign - played a significant role, I believe, in helping cover up the truth of what happened at the NML in Winnipeg. [The book also supports the Official Narrative about Covid being very dangerous, and it ignores the gaping holes in that narrative.]
Elaine Dewar's 470-page book,
On the Origin of the Deadliest Pandemic in 100 Years: An Investigation
, appears on the surface to be a deep dive into where Covid came from. Dewar concludes toward the end of her book that the novel coronavirus was created in a laboratory in Wuhan, China, and was released accidentally or on purpose from there.
Dewar researched and wrote the book in just one year, and it was published within just two months of her finishing it. It also received laudatory and high-profile coverage: for example
this August 31 report
by the CBC's Karen Pauls.
Dewar discusses at some length in her book the vials of Ebola and other dangerous materials that Qiu sent to the Wuhan Institute of Virology in
March 2019
. Yet overall she paints Qiu as being innocent of any deliberate wrongdoing.
Dewar also largely takes at face value statements by Kobinger exonerating Qiu. For example Dewar quotes Kobinger as saying he believes Qiu and her husband were removed from the NML because of "other issues that are completely unrelated to scientific research" - that is, revenge by Canada for the
December 2018
arrest in China of the 'two Michaels,' Spavor and Kovrig (p. 168).
In addition, Dewar never mentions any of the evidence pointing to Ad5-EBOV possibly having been transferred from the NML to China.
Fleshing Out the Evidence
1. In 2000 a team of three researchers created a prototype Ebola vaccine based on an adenovirus; it's called Ad5-EBOV -- the short form for 'adenovirus serotype 5 Ebola vaccine.' It's also called Ad5-ZEBOV: the added 'Z' is for Zaire, the country from which the Ebola virus strain used in the vaccine originated. All three of those scientists already were, or soon would be, working at the NML. Ad5-EBOV contains an adenovirus into which the scientists spliced the gene for the Ebola virus's spike protein. (The adenovirus has been manipulated so that it is not able to replicate.) The spike protein is therefore produced in the vaccine recipient's body and is intended to elicit an antibody response specific to Ebola.
Qiu, who was born in China, received her MD at Hebei Medical University in 1985 and an MSc in 1990. In 1996 she left China and moved to Houston, Texas, to do research at the MD Anderson Cancer Center. Qiu moved to Winnipeg the following year and
in 2003 was hired by the NML
.
Qiu's research at the NML was conducted primarily by a large number of visiting students and scientists from China. My source told me that Qiu's work was largely unknown to people working in other laboratories at the NML. Other NML scientists' role was largely limited to writing some of Qiu's pre-2015 research papers -- her ability to speak and write English was very limited until after that.
Qiu together with Kobinger, as well as other researchers from the NML and additional institutions in the U.S. and Canada, worked on adenovirus-based Ebola vaccines, primarily the Ad5-ZEBOV. They published approximately 12 papers on this research between
2006
and
2015
.
Remarkably, the adenovirus-vaccine research project was never officially recognized by the NML. See for example
this document
listing news articles on the work of Qiu at the NML: there is no mention in any of the articles of the adenovirus-vaccine project.
"If this work was successful, why no mention by PHAC or the NML publicly? Not even a single press release or more importantly no patent application," my source wrote in an email to me. "And if it was failing, why continue to work on it for so long? I believe it's because this vaccine and the adenovirus platform for it were never destined to go from NML/PHAC to Canada, for Canada."
2. Between 2016 and 2018 there were four scientific journal articles published on refining and testing Ad5-EBOV. Those papers are this one published in October 2016, this one published in March 2017, this one published in January 2018 and this one published in December 2018.
All four papers were authored by, among others, scientists from China's Academy of Military Medical Sciences in Beijing - which is an arm of the Chinese People's Liberation Army or PLA, and which also is a partner of CanSino's in developing its Ad5-based vaccines (see points 6 and 7, below). In addition, some of the students working with Qiu at the NML were from the Academy (see point 4, below).
The first, second and fourth papers also are co-authored by, among others, researchers from CanSino.
Furthermore, Qiu is a co-author of the
first
of those four papers - and not just any co-author, but the last author. This position in the author line-up is usually reserved for the person who is the senior/managing scientist for the study.
And indeed, Qiu's PHAC/NML email address is supplied; this indicates she is the point/contact person for the paper.
3. In 2006 Kobinger and several other investigators at the NML started work on the monoclonal-antibody-based treatment for Ebola known as ZMapp. Qiu joined them in this work several years later.
Qiu and Kobinger received a lot of press about their ZMapp research, and they were given awards for it. These included the
Governor General's Innovation Award in 2018
. The pair were congratulated for receiving this award by, among many others, PHAC official and Chief Public Health Officer of Canada Theresa Tam (see Tam's
May 23, 2018, tweet
).
However, the results of a clinical trial of ZMapp
published in 2016
in the
New England Journal of Medici
ne showed it was not effective against Ebola. ZMapp subsequently sank largely out of sight in the medical literature, except for appearances such as in a
2019 paper
that showed ZMapp is inferior to other Ebola treatments.
"The ZMapp project could be viewed as a beautiful cover for what Qiu and Kobinger were also doing -- which was developing an Ebola vaccine based on the adenovirus platform without its being an official/high-profile NML project,"
my source told me in a telephone interview. "ZMapp failed in that first clinical trial, published in 2016, and was never used in the field again because it was not effective at all. Yet this is supposedly what Qiu and Kobinger were beavering away on for about 10 years, to great fanfare."
4. Qiu and her students had tight ties with China.
According to my source, Qiu made several trips to China every year, starting in at least 2010, if not before. Each trip lasted two to eight weeks. Qiu was somewhat evasive and non-specific about the purpose of her trips; according to my source, Qiu usually told others at the NML that her trips were to visit family, to do research or to attend conferences.
Dany Shoham, an Israeli army officer and a biomedical researcher at the Begin-Sadat Center for Strategic Studies at Bar Ilan Universities, has probed Qiu's Chinese ties. In a
December 2019 article
Shoham documented that Qiu had Chinese-national students working for her at the NML who were from army and state facilities such as
China's Academy of Military Medical Sciences
(which, as pointed out in point 2 above, is an arm of the People's Liberation Army of the Chinese Communist Party), the China CDC, the Wuhan Institute of Virology and the Institute of Microbiology at the Chinese Academy of Sciences.
Shoham also documented that Qiu had received grants from many Chinese institutions, ranging from the National Key Program for Infectious Disease of China to the National Key Research and Development Program of China.
And a
July 2021 investigative piece on CBC News
pointed to Qiu's students having ties to China's Academy of Military Medical Sciences.
The CBC investigation also indicated that some security experts and politicians are concerned by such individuals having been given federal security clearance to work on nationally important and sensitive projects at the NML.
These included sources who told CBC that non-Canadian citizens sometimes have limitations to their security clearance but that in some cases those limitations were ignored for Qiu's students.
5. Qiu also is listed as co-inventor on two Chinese patents registered in 2018 and 2019. All relate in some way to her work at the NML - yet the NML is not even mentioned in either patent. The patents are this one and this one.
According to a
June 23, 2021, National Post article by Tom Blackwell
, who broke this story, a spokesperson for PHAC refused to comment on whether Qiu sought the required permission from the government to file these patents or whether PHAC was even aware of the patents.
Blackwell quotes a prominent trade and R&D lawyer, Mark Warner, as saying, "'If her [Qiu's] contract permitted it, that would be a scandal. If the contract didn't permit it and they ignored the contract, that would be a scandal. If the contract didn't even turn its attention to this, that would be a scandal, too.'"
Blackwell wrote that the spokesperson said, when he asked whether PHAC is concerned about working in such a way with the Chinese government, that "open science and collaboration' are core to its work."
6. In December 2014 CanSino and China's Academy of Military Medical Sciences announced the start of clinical trials with an adenovirus-based Ebola vaccine, Ad5-EBOV (brand name Convidicea).
The official story is the vaccine
had been discovered, at some unspecified time, by the Chinese Academy of Military Medical Sciences' Institute of Biotechnology, and was being co-developed with CanSino
. (And as noted in point 2 above, that Academy is an arm of the PLA.)
The clinical trials were in
2014
-
2015
. The vaccine was approved by the China FDA in October 2017 (see the fourth row -- labelled 'Ad5-EBOV (monovalent)' -- fourth column, point c, in
this World Health Organization table
summarizing the Ebola vaccines in development as of Aug. 19, 2019; and see
this page
of the CanSino website on the timeline for its Ebola vaccine).
CanSino was founded in 2009 by Chinese citizen Xuefeng Yu. He did a PhD at McGill and later became head of vaccine development and production at Sanofi Pasteur in Toronto. CanSino's CFO Zhu Tao also was a senior scientist at Sanofi Pasteur. CanSino's name connotes the Canadian-Chinese connections that led to the creation of the company.
A
December 2020 Global TV investigative report
(also uploaded to my website
here
) by Sam Cooper shows that the
Canadian Security and Intelligence Service (CSIS) suspects Zhu and Yu of having been part of a concerted espionage campaign by the Chinese government. That campaign -- known as the 'Thousand Talents' plan - focuses on transferring R&D and intellectual property from countries like Canada, the US and Australia to China.
The Plan was started in 2008 by the Chinese Communist Party. According to the Global TV report, 'Thousand Talents' is "deeply intertwined with China's broad espionage campaigns." Zhu apparently was recruited in December 2010.
An
April 2017
English-language article in the Chinese publication '
Sixth Tone
' praises the company's lightening-speed development of their adenovirus-based Ebola vaccine. It also notes that a CanSino board member and investment banker named Nisa Leung believes CanSino will "become a global player in the vaccine market. 'The Ebola vaccine is a good thing, but vaccines for children are more important, and there's a bigger market — that's why there's so much support from everywhere,' Leung said."
CanSino raised tens of millions of dollars in 2015 from companies such as
Eli Lilly
to scale up production of its Ad5-EBOV vaccine.
7. Aided by its experience and technology gained with the development of its adenovirus-based Ebola vaccine, CanSino subsequently developed a one-dose, Ad5-based, Covid-19 vaccine with the Institute of Biotechnology at China's Academy of Military Medical Sciences. A gene for the novel coronavirus's spike protein is spliced into the adenovirus (which has been manipulated to not be able to replicate). The recipient's cells produce the spike protein, in turn provoking an immune-system response to it. (The Johnson & Johnson and AstraZeneca Covid vaccines also use an adenovirus, but different forms of it.)
According to a
July 2020 Bloomberg News article
, CanSino "raced through pre-clinical studies on the[ir] coronavirus vaccine - called Ad5-nCoV." (That same article also gives glowing praise to Yu and other of "this new breed of executives" trained in other countries and who return to China to build companies with the expertise and knowledge they gained abroad.)
They started clinical trials in Wuhan in
March 2020
. They also did second-phase trials and published the results on May 22, 2020, and on
June 13, 2020
, in the
Lancet
.
As with the Ebola vaccine based on the adenovirus serotype 5, the results
were mixed
-- in part because almost everyone already has antibodies to this virus, which is one of the viruses that cause the common cold.
Yet it continues to be
approved
and sold by the
tens of millions of doses
in
several countries
: China, Hungary, Moldova, Argentina, Chile, Mexico, Malaysia and Pakistan.
An
August 27, 2021, Reuters article
indicates that in the first six months of 2021 CanSino had an operating profit of $123.79 million USD, "driven by use of its COVID-19 shot."
Meanwhile, the NML -- where this very valuable vaccine technology likely originated -- over the years has been hollowed out with respect to funding. And its leading figures have all left for other positions across North America or, in
Alimonti's case
, passed away.