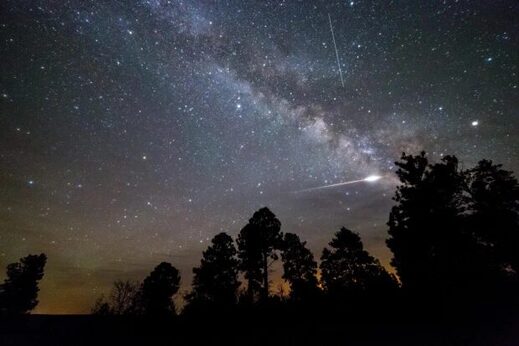 A HUGE meteor lit up the skies of Scotland tonight.
Weatherman Sean Batty told fans he spotted a "fireball dropping out of the sky".
The STV weather presenter took to social media to ask other Scots whether they had seen the very bright meteor.
He said: "Oh wow, did anyone else just spot that fireball dropping out of the sky there? Very bright meteor by the looks of it!"
It is understood to have come crashing through the atmosphere around 8.30pm tonight.
Sightings were reported from all over the country including in Fife and Inverclyde.
Many Scots took to Twitter to report similar sightings of the firework-like flash.
One person commented: "About the same time up here in Invergordon in the Highlands I'm sitting in my living room looking out across the Cromarty Firth & I saw a flash & wondered what I'd seen! ! I said to my other half who rolled his eyes at me!"
Another said: "It was so big & bright In Dunfermline. At first I thought it was a firework on fire but it was going diagonally downwards rather than up.
"I am so glad I have seen your tweet. Thank you for confirming I hadn't imagined it ."
A third commented: "Yes!! Me and my partner seen it just outside North Berwick, was amazing!"