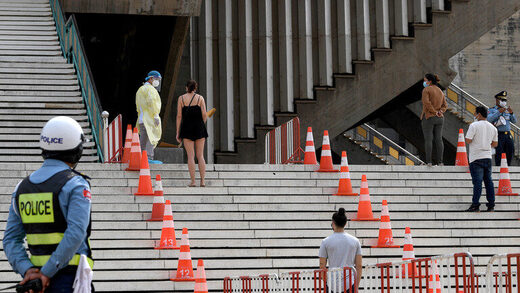 New legislation adopted in Cambodia would make violating coronavirus measures a serious offense punishable by up to two decades behind bars.
The harsh law has been criticized as a way to crack down on dissent.
Passed unanimously by the country's parliament on Friday, the law calls for a three-year prison sentence for those who break quarantine orders, and up to twenty years in jail for any group that intentionally spreads the virus.
Cambodia's Health Minister Mam Bunheng hailed the law as a way to "protect public health."
The southeast Asian nation has registered 932 Covid cases since the start of the pandemic, but has yet to record a single death linked to the virus.
Critics claim that the law is excessive and can be used by the government to crackdown on political opponents. Human Rights Watch (HRW) said in a statement that
the legislation will "further erode the rights of activists and dissidents."
"Imposing ridiculously harsh penalties for Covid-19 infractions goes against both public health and human rights principles,"
HRW's deputy Asia director Phil Robertson said in a statement.
The law was passed days after exiled opposition leader Sam Rainsy was sentenced in absentia to 25 years in jail over an alleged plot to oust Prime Minister Hun Sen, who has ruled Cambodia for 36 years.
Cambodia is far from the only country to impose harsh punishments for those who run afoul of Covid measures.
Last month the UK government threatened an up to 10-year prison term for anyone caught falsifying their travel history when entering the country in breach of quarantine rules.
France calls up 4,400 officers to enforce 6pm curfew in Paris amid compliance concerns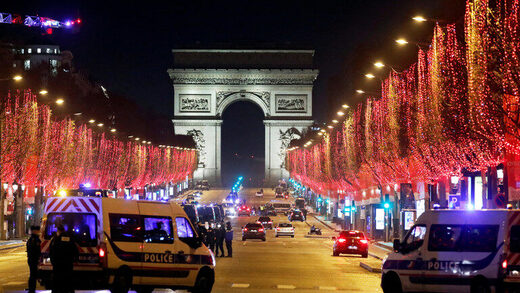 "If the police find groups of people in which respect for social distancing cannot be guaranteed,
in particular on the banks of the Seine and in public parks and gardens
, they are instructed to proceed with their evacuation," the Paris police department confirmed on Friday, as it announced the mobilization of 4,400 officers this weekend.
Comment:
Note that some parts of Europe are enjoying relatively warm weather for this time of year, and so the police are essentially being deployed to prevent people bonding, getting exercise, fresh air, and
sunshine
.
The police also urged people to ensure they
reduce their social contacts to a maximum of six people and avoid any travel outside the Paris metropolitan area
in order to prevent spreading the virus to other regions.

Comment: One would assume that getting out of the polluted city for a short break would be good for people's health and immune system. Note that there is no evidence healthy people showing no symptoms spread coronavirus.


"If, during gathering in public places, it is found that the sanitary measures in force are not respected,
people will be dispersed immediately
," the statement adds.
Since mid-January, the country has been under a nighttime curfew running from 6pm until 6am. However, its effectiveness has been called into question in recent weeks with 23 regions of France placed under "reinforced surveillance"
over a rise in Covid-19 infection rates.
Stricter measures have been brought in at weekends for Nice and Dunkirk already and will be imposed in the northern area of Pas-de-Calais as of Saturday.
On Thursday, Prime Minister Jean Castex backtracked on
proposed plans
for a weekend shutdown of the capital and other major towns
, while the Paris deputy mayor has requested a three-week circuit-breaker lockdown to stem the spread of the virus, followed by a rapid reopening of businesses.
Comment:
These 'circuit breakers' have been shown to do nothing to limit the spread of the relatively harmless coronavirus; other countries that have
enforced
them, such as Wales, have simply resorted to total lockdowns weeks later.
Despite calls for tough new measures in the capital,
Paris will only see relatively minor additional restrictions
, including the closure of non-food stores and shopping centers greater than 10,000m².

Comment: For the millions who have been out of work, unable to travel, and locked down in their houses for nearly a year, any additional and extension of restrictions will not seem 'minor' at all.


On Thursday, a group of protesters took over Paris' Odeon Theater as part of a series national demonstrations against the continued closure of cultural venues.
As many as 80 people made their way into the 18th century building.
In recent weeks, media reports have shown crowds of people enjoying good weather in the capital, many maskless
and flouting bans on social distancing.