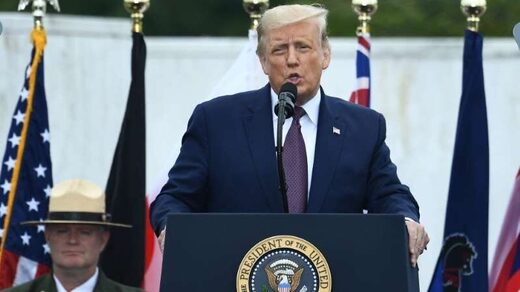 President Trump
cast doubt on the science of climate change and its role in the devastating western wildfires during a briefing with federal and local authorities in California on Monday, predicting that it would soon get "cooler."
State officials who met with Trump in McClellan Park, Calif., emphasized the increase in temperatures in California in recent years, saying that climate change has been a primary factor driving the wildfires ravaging parts of the Pacific Northwest.
California Secretary for Natural Resources Wade Crowfoot said Trump and state officials agree that vegetation management needs to be an area of focus, but he said it would be a mistake to put one's "head in the sand" and ignore how climate change is exacerbating the fires.
"We want to work with you to really recognize the change in climate and what it means for our forests. And actually work together with that science. That science is going to be key because if we ignore that science and sort of put our head in the sand and think it's all about vegetation management, we're not going to succeed together protecting Californians," Crawford said at the briefing.
"It'll start getting cooler, you just watch,"
Trump replied.
"I wish science agreed with you," Crowfoot replied.
"I don't think science knows, actually,"
Trump said, without providing any further explanation.

Comment: See Trump in action:



Trump was joined at the briefing by California Gov.
Gavin Newsom
(D) as well as other state and local officials.
Newsom discussed the devastation of the fires and the progress toward extinguishing them, thanking Trump for the federal support and what he called a "profoundly significant" move to issue a disaster declaration last month. Newsom said 44,000 individuals had been evacuated, 24 people killed and 24 structures destroyed as a result of the fires.
The California governor also used his remarks to strongly emphasize the need to tackle climate change, asking Trump to respect their "difference of opinion" on the issue.
"We've known each other too long, and as you suggest, the working relationship, I value. We obviously feel very strongly the hots are getting hotter, the dries are getting dryer," Newsom said. "Something has happened to the plumbing of the world, and we come from a perspective, humbly, where we submit the science is in and observed evidence is self-evident that climate change is real and that is exacerbating this."
"I think there is an area of at least commonality on vegetation, forest management, but please respect — and I know you do — the difference of opinion out here as it relates to this fundamental issue on the issue of climate change," Newsom said.
"Absolutely," Trump replied.
Trump has argued that forest mismanagement has result in the damaging fires that are currently devastating California and Oregon. The wildfires have burned millions of acres of land, forced residents from their homes in droves and left over 30 people dead.
"When trees fall down after a short period of time, about 18 months, they become very dry, they become really like a matchstick," Trump told reporters upon arriving in California on Monday. "Also leaves, when you have years of leaves, dried leaves on the ground, it just sets it up, it's really a fuel for a fire. They have to do something about it."
Asked if California had a climate change problem, Trump said it was a question for Newsom, saying he didn't want to "step on his toes."
Newsom noted during his remarks at the briefing that a majority of land in California is federally-owned, and that as a result the federal government has a significant responsibility in helping to better forest management in the state.
While in California, Trump also awarded seven members of the California National Guard the Distinguished Flying Cross.